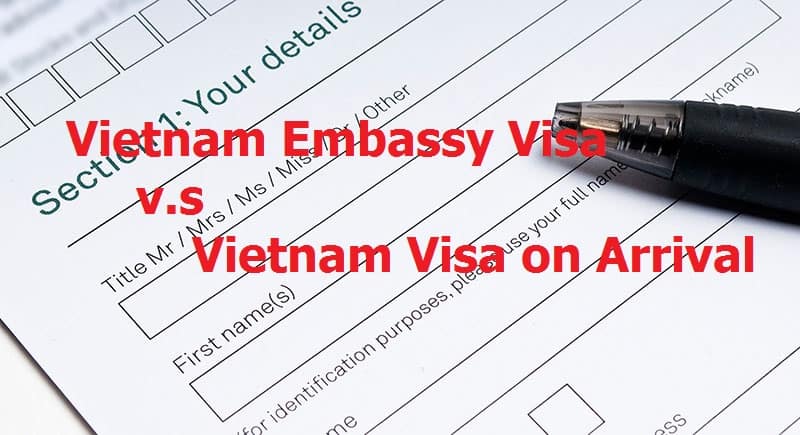 Hanh Pham

January 7, 2019
Obtaining a Vietnam visa is a requirement for almost foreigners traveling to Vietnam, except those included in the Vietnam visa exemption list. To get it, in the past, people need to show up in a Vietnam embassy or Vietnam Consulate to follow some required procedures before getting a legitimate Vietnam visa. However, to enhance the simplicity and convenience for the customers, a new type of visa is released which is a Vietnam visa on arrival. Then let's take a look at these 2 kinds of visa.
Getting a Vietnam visa in Vietnam Embassy or Vietnam Consulate
This type of visa is only applicable for all types of transportation: land, sea or air. To apply for a visa, foreigners should reach the nearest Vietnam Embassy or Consulate to submit the required documents including original passports, completed application form and one passport sized photo of 4×6 cm. After a processing time (can be varies depending on each Embassy) of at least 5 working days, applicants will have a notice from the Embassy if your visa is processed or not.
The total cost for getting a Vietnam visa in Embassy or Consulate includes visa approval arrangement fee, processing fee, shipping, handling and expedited services.
Obtaining a Vietnam Visa on arrival
Many can be doubtful about this but Vietnam visa on arrival is absolutely legitimate because it is also issued by Vietnam Immigration Department – the issuing authority in Vietnam. But please be noted this type is used by anyone traveling by air only. It is a way of getting a valid visa to Vietnam, in which the applicants will need to get a visa approval letter online beforehand and pick up full visa at Vietnam international airport upon arrival. Transparently, compared with the traditional way in getting a Vietnam visa, this new type shows more advantages because it requires applicants just to implement 3 simple following steps:

Step 1: Get access to the link https://booking.vietnam-visa.com/step1.html, in which you need to choose visa options and fill out the form containing information related to full name, date of birth, nationality, passport number, date of arrival and type of visa.
Step 2: After a certain time period, normally working 2 days (tourist visa, normal service), applicants will receive a visa approval letter via email. Remember to print it I along with Vietnam entry and exit form of passport-sized photos 4x6cm and cash for stamping fee.
Step 3: Show all prepared documents to Immigration officers at Vietnam arrival airport to get visa stamped.
As compared to the price of visa at Embassy, the total cost only includes 2 types: service fee paid online for Vietnam visa center and stamping fee paid in cash for Immigration Officer. It's full cost can be found here.
It is fair enough to say that, both ways of applying show their own advantages and disadvantages:
Advantages:
Visa at Embassy
Visa on arrival

Visa is already stamped onto original passport before departure to Vietnam
Applicable to travelers to Vietnam by any means of transport
All the cost is paid once at Embassy

No need to send original passport away
Simple online process
Exceptionally convenient for those who are currently living far away from Vietnam Embassy
Receive dedicated support from staffs
Disadvantages
Visa at Embassy
Visa on arrival

Requiring original passport
Having to travel to the nearest embassy or send documents by post
Working directly with Vietnam embassies
Various visa fees and procedures at different Vietnam embassies

Waiting in the line in front of Immigration Counter at arrival airports in Vietnam to have visa stamped
Possibly having names of other people on approval letter
Foreigners cannot apply for visa on arrival themselves, the application must go through authorized travel agencies in Vietnam or organizations
Through analyses, it is highly recommended that applicants get Vietnam visa on arrival for those who wish to enter Vietnam by plane thanks to its 5 undeniable advantages.