Due to complicated development of COVID 19 in various countries around the world and the current COVID situation in Vietnam recently, the Vietnamese Government still temporary closes its borders to regular tourists. Any foreigner who wishes to enter Vietnam now only do so if they get their Vietnam entry permit (or also known as Vietnam entry approval letter) issued by the Vietnam Immigration Department. However, it's NOT easy to do so, but requires a long and complicated process.
This post will give you through requirements and steps to get into Vietnam these days, during COVID 10.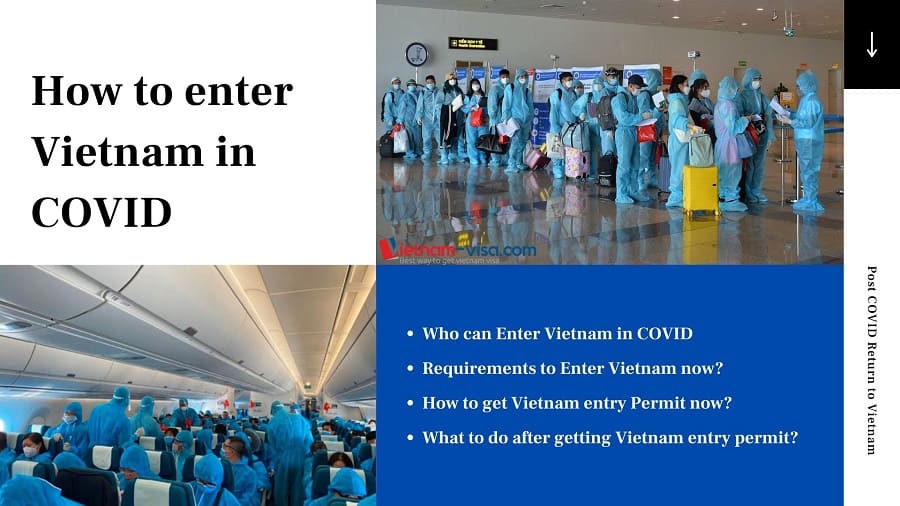 1. Who Can Enter Vietnam During COVID
As newly announced by the Vietnam Immigration Department here, the following foreigners can, at the moment, enter Vietnam:
Foreign experts, investors, business managers, high-tech workers (hereinafter referred to as experts), and their relatives being fathers, mothers, spouses, and children;
Foreign students and students studying in Vietnam;
2. Requirements to Enter Vietnam in COVID
In order to get into Vietnam now, all foreigners must have a sponsor company or institution in Vietnam, which will be responsible to get their entry permit issued by the Vietnam Immigration Department.
3. How to get Vietnam Entry Permit for Foreign Experts in COVID
This procedure is updated by the Vietnam Immigration Department on November 2, 2020, and it is applicable to all those who wish to enter Vietnam at the moment, no matter they have a valid visa or TRC for Vietnam already. It covers the following steps:
Step 1: Prepare required documents for getting a Vietnam Entry Permit
The inviting company in Vietnam shall prepare the following documents to obtain an Entry Permit to Vietnam:
Request form for approval for Vietnam visa, entry for foreigners (Form NA2 issued together with Circular No. 04/2015/TT-BCA dated January 5, 2015 of the Minister of Public Security prescribed forms of papers related to the entry, exit and residence of foreigners in Vietnam). The inviting agency can also access to http://evisa.xuatnhapcanh.gov.vn/web/guest/huong-dan-dvbl-xdnc to complete the form online, print it out, sign and seal it.
A copy of a valid Vietnam visa or TRC (if any) and note it on the Request Form NA2.
Original or certified copy of the Written Approval by the Provincial People's Committee allowing the foreigners to enter Vietnam to carry out their employment, family members' visit, study, and approving their transport and quarantine plans.
Original or certified copy of the Written approval for quarantine issued by the People's Committee of the Province where the quarantine is taking place in case it is different from the Province mentioned in item 3.
Flight details if entering Vietnam via airport (including Flight Number, Flight Itinerary, and arrival airport). It case they are unknown at the time of submission, please notify the Immigration Department immediately after they are available.
If this is the first time to apply for Vietnam entry permit for foreigners by the sponsor company, the following documents should be added:

Certified copy of Business Registration Certificate or Decision on Company Establishment issued by the competent authority;
Form NA16: Registered form of seal and signature of the legal representative of the enterprise operating in Vietnam
Step 2: Submit the documents and receive results
After completing all the documents mentioned in step 1, the inviting company shall submit them to the Vietnam Immigration Department at the following addresses:
In Hanoi: 44-46 Tran Phu, Ba Dinh, Hanoi
In HCMC: 333-335-337 Nguyen Trai, District 1, Ho Chi Minh City
The processing time is 3 working days since receipt of full valid documents.
If you need any consultation or assistance for Vietnam entry permit, feel free to let us know.
Consult me on Vietnam Entry Permit in COVID
Vietnam Entry Permit in COVID
Please complete form!
Email invalid
Thank you so much for contacting us!
Thank you for contacting us. Our consultant will get back to you within 04 working hours. Wish you all the best!
4. What to Do after Getting the Vietnam Entry Permit
After getting the Entry Permit, the Inviting Entity in Vietnam should make all the things required ready to welcoming the foreign experts to Vietnam, including arrangement of vehicles and hotel for quarantine, while the foreigners need to complete their COVID Test before departure.
In case the foreigner experts have neither visa nor TRC yet, they will get their visa stamped on passport upon arrival at Vietnam checkpoint. Otherwise, they need to show their current valid visa or TRC. And then, they will follow this Vietnam entry and quarantine procedure.