Due to complicated development of COVID 19 in various countries around the world and the current COVID situation in Vietnam recently, the Vietnamese Government still temporary closes its borders to regular tourists. Any foreigner who wishes to enter Vietnam now only do so if they get their Vietnam entry permit (or also known as Vietnam entry approval letter) issued by the Vietnam Immigration Department. However, it's NOT easy to do so, but requires a long and complicated process.
This post will give you through requirements and steps to get into Vietnam these days, during COVID 10.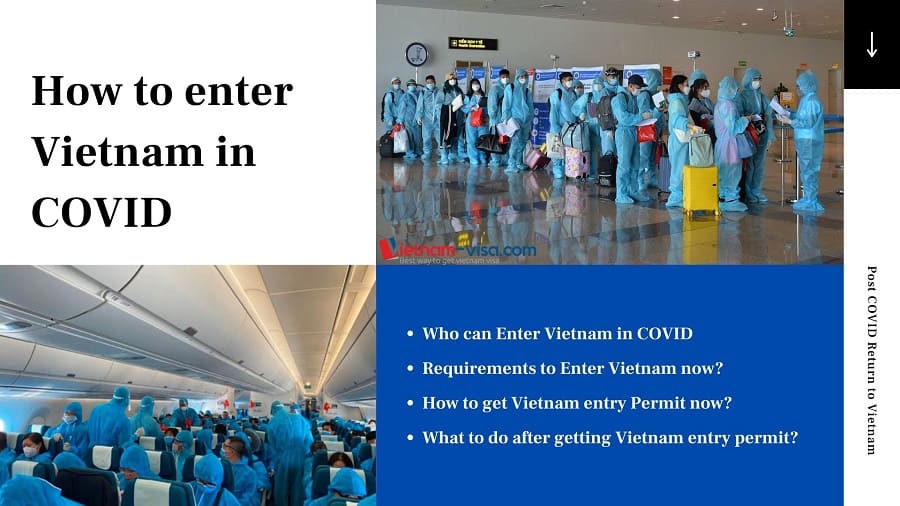 1. Who Can Enter Vietnam During COVID
As newly announced by the Vietnam Immigration Department here, the following foreigners can, at the moment, enter Vietnam:
Foreign experts, investors, business managers, high-tech workers (hereinafter referred to as experts), and their relatives being fathers, mothers, spouses, and children;
Foreign students and students studying in Vietnam;
2. Requirements to Enter Vietnam in COVID
In order to get into Vietnam now, all foreigners must obtain a Vietnam entry permit with support of the inviting company/institution in Vietnam and negative Covid PCR test certificate.
3. How to enter Vietnam in Covid
After getting the Entry Permit, the Inviting Entity in Vietnam should make all the things required ready to welcoming the foreign experts to Vietnam, including arrangement of vehicles and hotel for quarantine, while the foreigners need to complete their COVID Test before departure.
In case the foreigner experts have neither visa nor TRC yet, they will get their visa stamped on passport upon arrival at Vietnam checkpoint. Otherwise, they need to show their current valid visa or TRC. And then, they will follow this Vietnam entry and quarantine procedure.
This is full procedure to enter Vietnam during Covid 19. It can be changed in the coming time as Vietnam is considering the Vaccine passport application.
Should you need to keep you updated of any changes in Vietnam entry regulations in Covid 19, register for email updates from us.