Tips for an enjoyable trip to Vietnam
While there are literally hundreds of places to visit and things to see and do in Hanoi, Vietnam, I have listed below my top 5 things to do in if you're on a limited time schedule. Make sure you plan ahead for your trip to Vietnam by obtaining the proper visa you may need. Obtaining a visa-on-arrival is the easiest way to do this.
Finding the right hotel for your visit to Hanoi should be very easy. There are hundreds of hotels scattered throughout the city. Finding accommodation near Hoan Kiem Lake would be your best bet to be in the center of the city. The backpacker area of Hanoi is to the North of the lake, the French District is to the South. A lot of budget accommodations are scattered throughout the North and West side of the lake. Budget accommodation will cost between $10-20 USD per night, hostels run about $5-10 per person.
1. Hue Café
You may not even notice this café as you walk through the winding streets of Hanoi. Located at 26 Hang Giay Street, this coffee shop is your best bet for the Vietnam coffee you've been dying to try. It was once rated the 7th best Coffee Shop in the world by several magazines, and you won't be disappointed. With only 1 table and 4 chairs at the time of visit in 2013, the top coffee to sample here is the 'Weasel 1 Coffee'. Vietnam is famous for its 'weasel' coffee, where the coffee beans are fed to weasels whose digestive systems help to change the properties of the beans, leaving them with a smooth, hazelnut, and chocolate flavor. The coffee is thick, and matches perfectly with the condensed milk that is often laying at the bottom of the cup. Be careful, there are two Hang Giay Streets in Hanoi, this one is located near the backpacker area.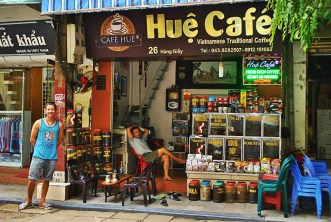 2. Bia Hoi
Bia Hoi is fresh Vietnamese beer that lacks preservatives and is only drinkable for 24 hours. […]