Updated: as from February 1, 2017, travelers to Vietnam has one additional option to get Vietnam visa, namely e-visa (electronic visa).
So, at the moment, there are up to 3 ways to obtain a visa for Vietnam, consisting of:
Obtain the visa at Vietnam embassy/consulate;
Obtain the visa on arrival; or
Obtain an e-visa
The first option is made offline at the embassy while the following two options are made online. So, in this post, we will make a brief comparison between these two online options for Vietnam visa only.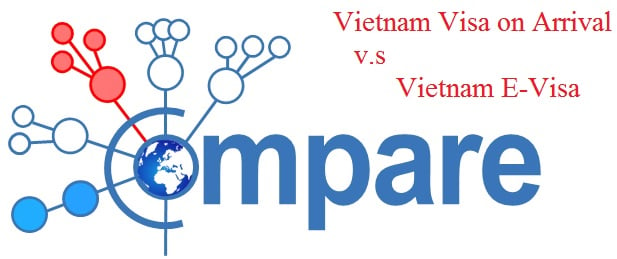 Item
Vietnam Visa on Arrival
Vietnam E-visa
Issuing authority
Vietnam Immigration Department
Vietnam Immigration Department
Beneficiaries
All travelers to Vietnam by air
Citizens of 40 countries in the list
Purpose of visit
Vacation, business, family/friend visit, and others
Vacation
Visa validity

1 month single/multiple entry,
3 months single/multiple entry,
6 months multiple entry,
1 year multiple entry

Visa Fee
Depending on visa type, refunded in case your visa application is refused
US$25, non-refundable in case your visa application is refused
How to get Vietnam visa

Go online at https://booking.vietnam-visa.com/step1.html and complete the form;
Make payment of service fee;
Receive the visa approval letter via email;
Get visa stamped at Vietnam airport upon arrival by presenting original passport, photos, entry and exit form and stamping fee in cash.

Go online to https://evisa.xuatnhapcanh.gov.vn/web/guest/trang-chu-ttdt and complete the form and attach it with photos of yourself and your passport page;
Make payment of visa fee;
You will then be provided with a digital code will be provided with a digital code to check the application progress and print their e-visas once they have been issued.

Processing time
2 working days or even quicker to receive the visa approval letter
3 working days to know your Vietnam visa application is approved or not
Entry gates
4 (international airports in Vietnam, consisting of Noi Bai, Da Nang, Tan Son Nhat and Cam Ranh)
28 (8 international airports, 13 international border gates, and 7 seaports across Vietnam)
Warnings
It may, but just sometimes, take you up to 30 minutes or 1 hour to get visa stamped at Vietnam airport if there are too many people […]

There is a saying that "what your clients say best describe your service!". It's always true. With over 10 years assisting travelers to obtain Vietnam visa on arrival easily and conveniently, we have well established a strong satisfaction among great number of travelers to Vietnam from all other the world.

Now, let's see how our clients talk about us and our service.

First of all, let's mention our major service – Vietnam visa on arrival

The very recent testimonial came from Sasmith Reddi – a very nice client. He said "Excellent Service. Very friendly, clear communication, taking time to listen and getting things done. First time I have used this service and am satisfied a 100%".

Then, it was about our quick service from Sarah-Rose Williams who comes from United Kingdom. "Thanks so SO much Vietnam Visa for getting my approval letter in under 2 hours. You were great at answering all my questions quickly and got it done in the promised time. Would highly recommend. THANKS!!!", she said.

"Super excellent, responsible and professional job. Thanks for everything" were the words that Al Giroian spent for our Vietnam visa service.

And we had Morgan Pillai who had spent time rated us on Facebook with such sweet words: "I sent mail and made the online payment to Vietnam Visa late Sunday evening. Today Monday morning received confirmation of visa letter in progress and by midday the letter was sent to me with detailed instruction on the procedure thereafter on arrival in Vietnam. I highly recommend them to anyone requiring visa assistance or tour booking.".

And this is how our client, Mr. Ben Gold decided to choose our service and his feeling after that: "I was searching the Internet for a visa service and stumbled upon this one. I read good reviews and decided to try it. They finished my visa in only one day, less than I paid for (that is super fast.) I also selected the wrong visa, […]