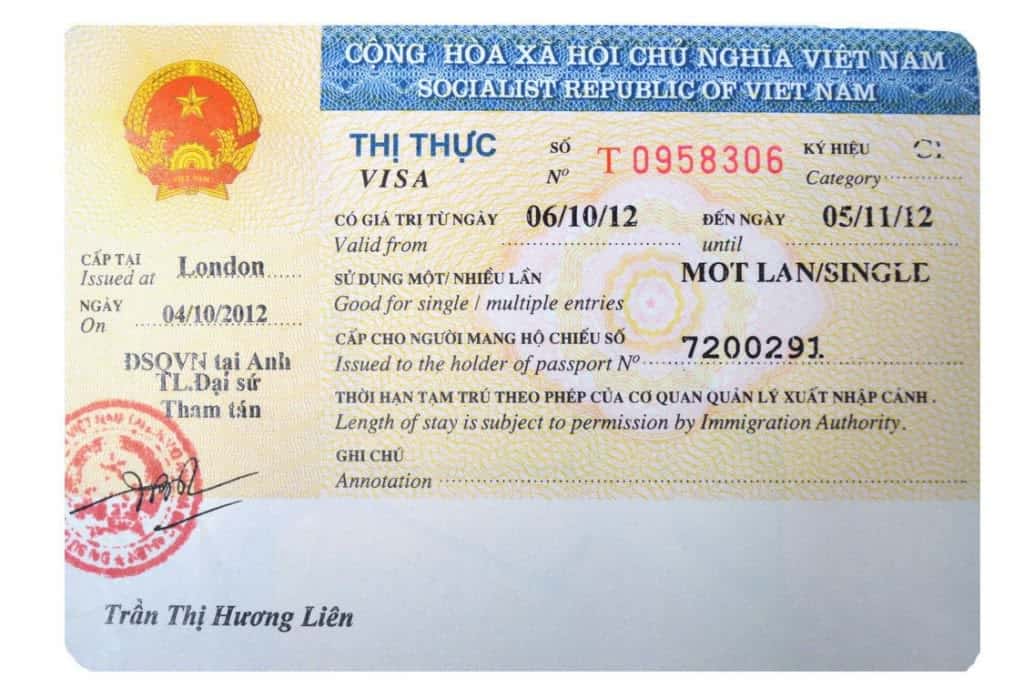 Phuong Nguyen

June 27, 2018
From November 2015, British who are family members of Vietnamese nationals can get a Vietnam visa exemption certificate. The certificate is valid for 5 years and let multiple entries into Vietnam for 6 month periods. Further details can be found through: https://www.vietnam-visa.com/further-1-year-of-vietnam-visa-exemption-for-uk-spanish-german-italian-and-french/
Until 30 June 2018, British Citizen passport holders travelling for tourism or business can enter Vietnam for up to a maximum of 15 days (inclusive of dates of entry and exit) without a visa. Before you go, you should check the helpful guide to get Vietnam Visa in UK and these following things:
Check your passport
All tourist and businessman is highly recommended to travel with a passport valid for at least 6 months following their plans departure from Vietnam and having at least 2 blank pages for immigration stamps upon arrival in and departure from Vietnam.
Check your arrival date
To get Vietnam visa exemption, all British travelers need to have their arrival date not exceed 30 days from exit date of their last stay in Vietnam in visa exemption contract, so please check your arrival date to ensure this requirement is met.
Confirm if transit visa is required for any connection
You are surely recommended to confirm to your airlines/carrier for the requirement to acquire a valid visa for any country you pass through in your journey to Vietnam.
Note: Passport validity
Your passport should be valid for a minimum of 6 months on the date you enter Vietnam for you for the 15 day visa exemption.
For the period being longer than 15 days, entering Vietnam might be refused if your passport is valid less than 1 month from the date your expired Vietnamese visa.
A lot of travellers have been rejected to enter because of their passports being damaged. Be sure that your passport is in good condition before applying for visa as well as travelling to Vietnam. Being rejected entry can result in a significant cost and an uncomfortable long stay at the airport.
Overstaying your Vietnamese visa without authority
This is a serious problem and you may be delayed from travelling until a huge fine is paid. One again, check the visa validity and conditions carefully. If you are planning to stay longer than 30 days (or trying to enter twice within 30 days), then there are two options that you can choose to apply for a Vietnamese visa:
You can apply visa in Vietnam Embassy in United Kingdom and either giving off your passport or sending of an electronic form and take the passport to the embassy in person. This is the "safest" option and will get you in at any point of entry available to foreigners without additional steps. However, it is time-consuming but not the cheapest one.
Alternatively, you can get a Vietnam Visa On Arrival. You, first of all, need to visit our booking page by select "Apply Online" and then fill in the secure Vietnam visa application form, you will then receive your visa approval letter in 2 working days (for normal service) or 1 working day (for urgent service) after you pay the service fee. Please bring this letter, Vietnamese visa application form, passport, and 02 photos of you and some amount of money as stamping fee to get on your flight, you will get your Vietnam visa stamped at the arrival airport in Vietnam, etc. 
Feel free to receive support from us by contacting us through +84.946.583.583 or Sales@Vietnam-visa.com