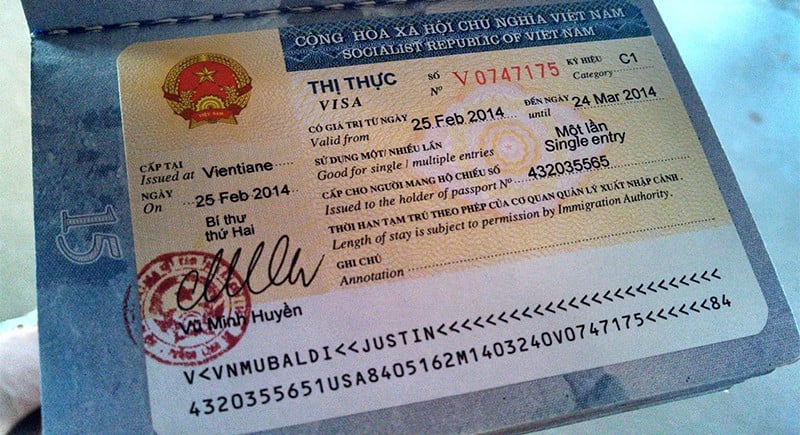 A VISA to Vietnam can be applied for by mail or in person at the Embassy of Vietnam in the United States (US) as early as six months prior to the date of travel. Like in most other nations, there are two ways to apply for Vietnam visa to be selected by residents of the US:
I/ Normal Vietnam entry visa (received before travelling)
The applicant must submit:
1. Original PASSPORT (which requires at least 01 month validity prior to the date of exit from Vietnam). In urgent cases, a loose-leaf-visa can be requested, then a copy of passport (photo and personal detail pages) may be submitted instead of the original passport.
2. Application form. The form must be completed, signed and attached with 01 original photo (2x 2in). In case of a loose-leaf-visa request, 01 additional photo must be stapled to the form.
3. A visa approval can be obtained through the applicant's host or sponsor in Vietnam. If the applicant does not have visa approval, he/she may contact us at https://www.vietnam-visa.com or the Embassy by email or by telephone (202 861 0737 ext. 221, 222, or 236) for assistance to apply for it. Additional processing fees for visa approval may be required.
4. Visa fees must be in the form of MONEY ORDER, or CASHIER'S CHECK, or CERTIFIED CHECK payable to "THE EMBASSY OF VIETNAM." Applicants applying together may submit combined payment in one money order".
5. A prepaid return envelope, if the applicant requests the visa to be returned by mail. Please use USPS Express Mail or USPS Certified Mail (www.usps.com) or Priority Mail with Delivery Confirmation. Please do not use UPS or DHL. Applicants applying together may provide one envelope for visas to be returned to the same address.
Diplomatic and official visas will be granted GRATIS unless otherwise agreed upon between Vietnam and the US. In addition to the documents specified in (I), the applicant must submit a note verbal or an official letter from the relevant agencies of the US Government, Embassies or Consulates accredited to the United States, and international organizations.
Processing Time: Five (5) business days are required to process visa applications with approval. Expedited processing requires one to two business days after the Embassy has received the application (additional fee required).
Note: Please keep the tracking numbers of the envelopes to and from the Embassy. When the above deadlines have passed, use the tracking number to check with the mailing service first.
Please do not make telephone inquires on the status of your application (make sure that you keep your passport number for this request) until after the 3rd business day for an expedited case and the 7th business day for a regular case.
The Embassy will be closed on Saturday, Sunday, Vietnamese and US holidays. Please take account of the observed holidays in planning for your visa application and travel.
For further information, please contact the Visa Section of the Vietnam Embassy:
Opening hours: 9:30 – 12:30 Monday through Friday.
Tel: (202) 861- 2293, (202) 861- 0694 and (202) 861- 0737 ext. 221, 222, 236 during 10:00 – 12:00 AM and 2:30 – 5:30 PM Monday to Friday
Fax: (202) 861- 1297 and (202) 861- 0917
Email: consular@vietnamembassy.us
Website: http://www.vietnamembassy.us
II/ Vietnam Visa on arrival (received upon arrival at Vietnam International Airport)
– Issuing unit: Vietnam Immigration Department
– Processing time: 2 to 3 working days
– Processing fee: 21.15 – 40 USD/person (stamping fee NOT included)
– Without Passport requirement
– How to get it? You go online at  https://booking.vietnam-visa.com/step1.html, fill in the secure form, and just wait 2-3 days until you receive your Visa Approval Letter, and take this + your passport + 2 photos to Vietnam to get your visa at airport. This seems to be the cheapest and easiest way to get a visa to Vietnam from the US.