Content:
Vietnam business visa, categorized as DN1 and DN2 visa, is granted to those entering Vietnam for business purposes, of which:
DN1 visa – to be granted to foreigners who work with other businesses and organizations with legal status in accordance with the laws of Vietnam.
DN2 visa – to be granted to foreigners who come to Vietnam to offer services, establish a commercial presence or perform other activities under international treaties to which Vietnam is a member.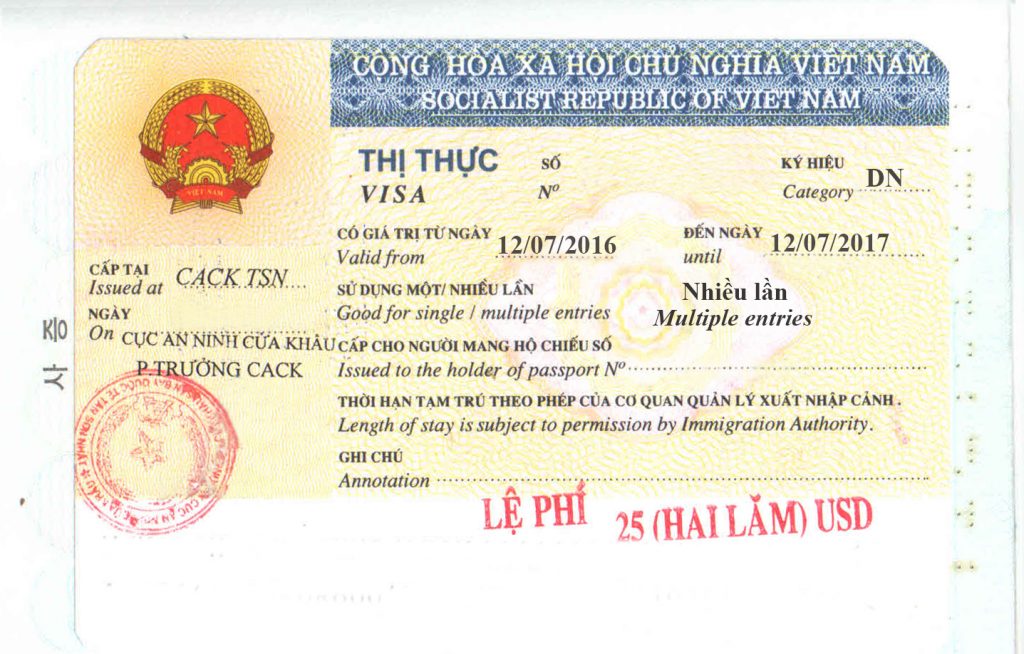 While people with Vietnam tourist visas are not permitted to work in Vietnam, those with a business visa are allowed to take a leisure trip during their business in Vietnam.
Vietnam Business Visa Requirements
Except for citizens of Visa Waiver Countries, all foreigners must apply for a business visa to do business or explore business opportunities in Vietnam.
To get a business visa for Vietnam, you need to make sure:
Your passport must be valid for at least 6 months following your arrival date (temporary passports may not be accepted.)
Your passport has at least 02 blank pages for visa and immigration stamps
Sponsorship letter from a licensed company in Vietnam is required if you apply through the local embassy in your country.
Types of Business Visa for Vietnam
You can apply for the following types of Vietnamese business visa which are categorized based on validity (length of stay) and the number of entries:
1 month single entry visa;
1 month multiple entry visa;
3 months single entry visa;
3 months multiple entry visa;
6 months multiple entry visa; and
1 year multiple entry visa.
How to Get a Business Visa for Vietnam?
There are currently 2 ways to get a Vietnam business visa as follows:
Business visa on arrival. This way of application does not require any travel at all. You only need to complete the secure online form with some information relating to personal and travel details. Then you will get a visa letter via email within a certain time and get visa stamped upon arrival at Vietnam airport.
Business visa at Vietnam embassy abroad. This way requires you to contact the Vietnam embassy/consulate before application for guidance on what to prepare and steps to follow.
Update March 10, 2020: Due to the outbreak of novel coronavirus (COVID-19), all those obtaining a visa approval letter from the Immigration Department of Vietnam are required to get visa stamped at Vietnam embassy/consulate. We will keep you update of any changed informed to us.
How much is a Business Visa for Vietnam?
The cost of business visa for Vietnam depends on the method you choose to get your visa, i.e.:
Visa at the embassy: The fee may vary.
Visa on arrival: you will need to pay two kinds of fees: (1) service fee – paid online to us to process your visa approval letter with Vietnam Immigration Department and delivered to your email, and (2) stamping fee – paid in cash to Immigration Officer at Vietnam airport to get visa stamped. The service fee is fixed by visa type, number of applicants, and processing time, while the stamping fee is set by visa type only. For example, a 1-month single entry business visa typically cost US $144 totally (consisting of US $119 for our service fee and US $25 for the stamping fee).
Here is a sample table of Vietnam business visa on arrival fees offered by Vietnam-visa.com:
| Type of visa | 1 pax | 2 pax | 3+ pax | Stamping fee |
| --- | --- | --- | --- | --- |
| 1 month single entry | $119 | $114 | $108 | $25 |
| 3 months single entry | $140 | $133 | $126 | $25 |
| 1 month multiple entry | $119 | $114 | $108 | $50 |
| 3 months multiple entry | $146 | $139 | $135 | $50 |
| 6 months multiple entry | $361 | $344 | $333 | $95 |
Service Fee is quoted in US $/pax
The above fees apply to normal service of 7 working days processing. You need to pay extra:
US $30/pax for 3 working days processing;
US $50/pax for 2 working days processing.
► Calculate Your Business Visa Fees
Vietnam Business Visa Processing Time
The processing time of a business visa for Vietnam depends on the way you choose to get your visa.
Visa on arrival: 05 – 07 working days to receive the approval letter. But if you need it urgently, you can get it in 02 – 03 working days.
Visa at the embassy: depending on the embassy.
Frequently Asked Questions
For a business visa on arrival for Vietnam, the sponsorship/invitation letter is not required. Just follow our instructions to submit your request for Vietnam business visa.
Yes. However, a business visa is not sufficient if you plan to live and work in Vietnam on a long-term basis. In this case, you need a work permit.
Yes. We can assist you in getting a visa on arrival which requires no sponsor company in Vietnam.
Yes. It is one of the purposes of business visa in addition to signing business contracts, attending meetings or conferences or working with a Vietnam-based company.
Yes, it is possible. After entering Vietnam, you can contact us to get your visa extension carried out or you can also ask the employer/business partner to extend/renew the business visa on your behalf.