No country can stay still in COVID and Vietnam is the same. Let's see how our country plans flights to welcome foreign travelers for tourism, business trips, or family visit and the time to fully open borders for tourism.
In this post, we will keep you updated on:
Vietnam International Flights schedule, and
Vietnam's border opening roadmap.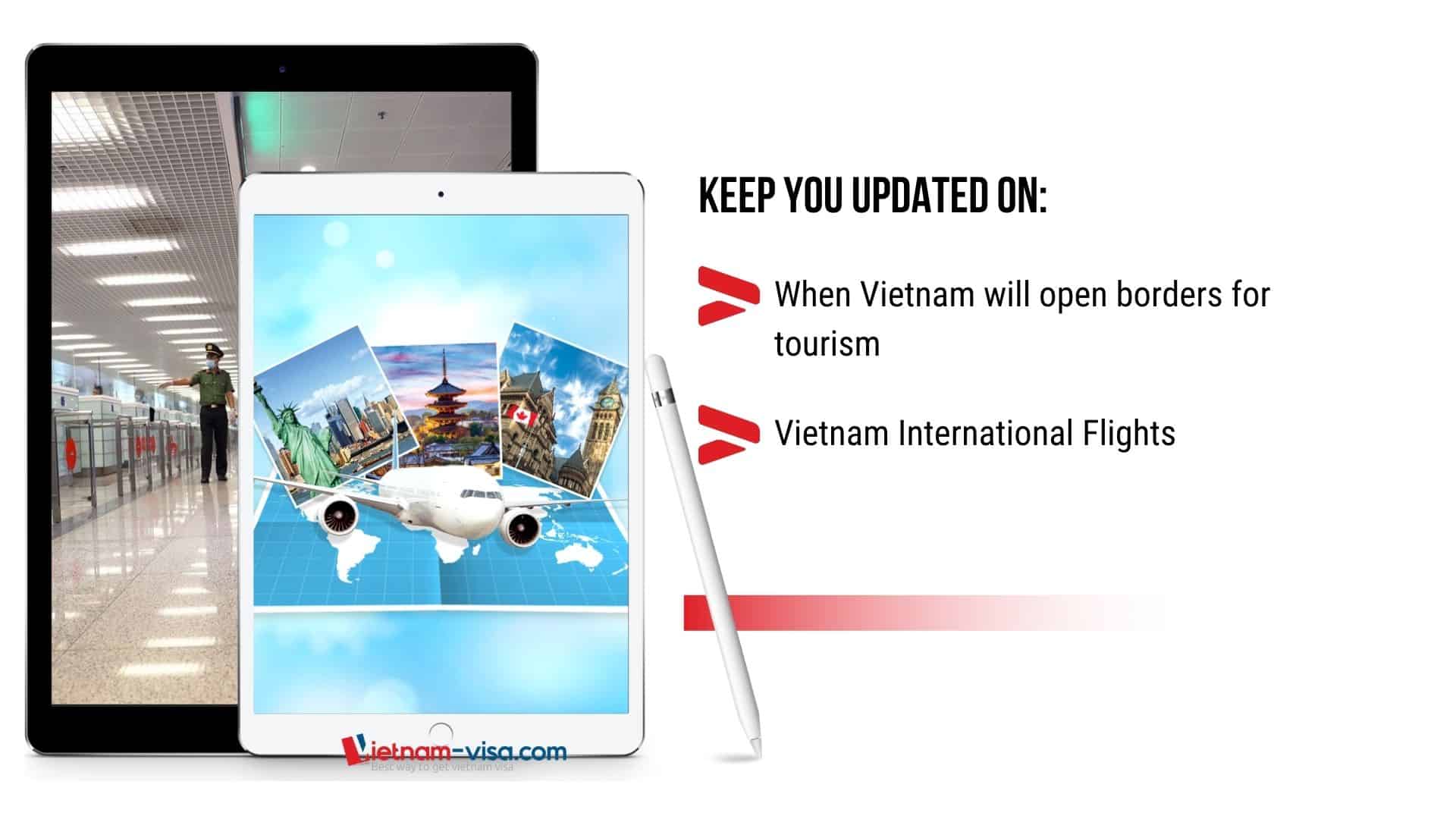 1. Vietnam International Flights Update
A new development has been opened up for foreigners who DON'T have a sponsor company in Vietnam BUT wish to visit the country as soon as possible.
If only foreign experts, investors, and managers with a sponsor company in Vietnam and Vietnam entry permit were allowed to enter Vietnam previously, the situation has been much improved since Bamboo Airways' currently announced plan for inbound flights for foreign travelers without a sponsor company in Vietnam. They are:
Foreigners who wish to visit Vietnam on a registered tour, or family visit.
Overseas Vietnamese.
Their expected schedule in December is as follows:
Departure dates:

December 12, 19, 23, 30
January 2022: 05, 09, 15

Flight: Incheon (South Korea) – Cam Ranh (Vietnam)
Available for the following passengers all over the world who can reach Incheon for the flight:

Vietnamese citizens;
Overseas Vietnamese;

Foreigners visiting family members, friends in Vietnam;

Foreigners visiting Vietnam on tours.
👉In case you are not in South Korea now, contact us for a connecting flight.
Quarantine requirements: 7 days at concentrated facility.
Documents for reservation:

Scan of full Covid vaccinated certificate;

Itinerary after quarantine.

Full-package flight fare covers:

One-way inbound flight ticket;

Checked baggage as specified

7 days-quarantine at Vin Hoi An Hotel or equivalent;

3 meals/day during quarantine;

2 Covid tests in Vietnam;

Specialized vehicle from arrival airport to quarantine hotel;

Protective clothes on flight;

7-days tourist visa for Vietnam.

Important notes: Travelers will

get visa extended for 30 days for a trip to designated destinations in Vietnam; or
get visa converted into a TT visa for 90 days if they are eligible for it.
Should you need any further information, feel free to let us know.
Hotline/WhatsApp/Zalo/Viber: +84.946.583.583
Email: Support@Vietnam-visa.com
Facebook page: https://www.facebook.com/VietnamVisaService
Hanoi office: 23rd Floor, Vinaconex 9 Tower, Pham Hung road, Me Tri, Tu Liem
HCMC office: R403, Win Home Building, No. 3 Nguyen Van Dau, Ward 5, Phu Nhuan District, HCMC
2. When will Vietnam open borders for tourism?
Recently, Vietnam's authorities have announced a plan to reopen the country to international tourists.
Its full process covers 4 stages as follows:
Stage one –November & December 2021

Pilot inbound flight packages for foreign visitors that include tickets, Covid-19 tests, quarantine hotels and meals.

Open to citizens of Australia, France, Germany, Japan, Malaysia, Russia, Singapore, South Korea, Taiwan, Thailand and several others who get fully vaccinated for Covid.

Quarantine requirements: 7 days at hotel upon arrival in Vietnam.

Available destinations include to Phu Quoc, Cam Ranh (Khanh Hoa), Quang Nam and Da Nang.

Flight frequency: 1 flight/day in November and 2 flights/day in December.

Stage two – January-March 2022

Frequency: four weekly return flights to Hanoi, Quang Ninh, Da Nang, Khanh Hoa, Ho Chi Minh City, Can Tho and Phu Quoc Island

The list of source destinations will be expanded.

Passengers will need to prove they have been fully vaccinated.
Passengers can visit other destinations in Vietnam after spending full 7 days in the first destination.

Stage three – From April 2022

Regular international flights schedules will be resumed for all international travels in a manner to ensure epidemic prevention and control as prescribed.
So, if everything goes as planned, Vietnam will fully open borders for tourism in April 2022.
Source: http://news.chinhphu.vn/Home/Govt-okays-pilot-roadmap-for-opening-borders-to-foreign-tourists/202111/46023.vgp
We will keep you updated on any new development.