The AsiaOne, a Singapore-based website has suggest amazing spots to spend a romantic weekend especially when it is just less than a month to the Valentine's Day, in which four destinations of Vietnam including Ho Chi Minh City, Phu Quoc, Da Lat and Hoi An are included.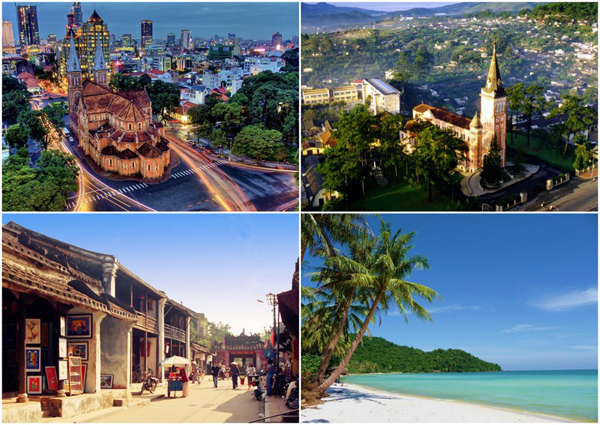 Less than two hours away by plane from Singapore, Vietnam with sexy beaches, lush scenery, rich history and delicious cuisine is an ideal place to keep any couple occupied and relaxed during a restful and fun weekend.
As said by the website, if you are looking for a proposal spot, European-influenced Ho Chi Minh City with charming streets will provide the perfect backdrop for you to drop to one knee and pop the question.
Da Lat, also known as "Le Petit Paris" (The Little Paris), is perfect for a wedding destination or honeymoon. Couples can throw a picture-perfect matrimonial celebration while surrounded by mountains and lakes.
The milder climate also makes Da Lat a top honeymoon spot for those looking to escape the heat and chaos after their busy wedding celebrations.
Engaged couples can also consider doing their wedding photo shoot in Da Lat Flower Park where fields of manicured flowers reside near the picturesque Xuan Huong lake.
Couples seeking to renew their romance can head to Phu Quoc for an idyllic retreat. Soak up the sun as both of you lie on the pristine beach and reconnect with each other.
Those who love outdoors can embark on an adventure hunt to explore the hidden corners of Phu Quoc.
Also according to the AsiaOne, Hoi An Ancient Town in the Central Vietnam is also a must-see destination when you are visiting this S-shaped country. Visitors going there will have a chance to discover structures which are built with harmonious blend of Vietnamese, Chinese and Japanese architecture.
Most cities in Vietnam are just reached after one or two hours by plane. There are many daily flights to its major cities.
It's your high time to apply online for Vietnam visa to your romantic weekend in these four amazing spots!