For many year entering Vietnam has been made much easier with introduction of Vietnam visa on arrival, in which travelers will need to obtain a visa approval letter online in advance to then get full visa upon arrival at Vietnam airport.
At Vietnam-visa.com, with over 10 years assisting travelers to get visa on arrival, we respect convenience of our clients, so we also try to be flexible in our ways to assist our clients. As such, we have developed up to 5 ways for travelers to request the visa approval letter via us, namely:
1.Online Form
We have developed a very simple online form for our dear clients to complete their application. Here is the link for direct application: https://booking.vietnam-visa.com/step1.html.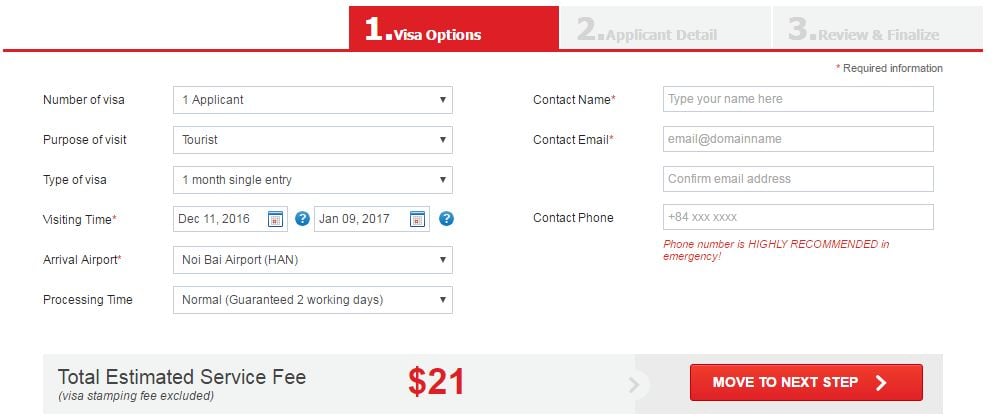 2. Email
In case you not want to  complete the form, you can send us your request to our email Support@Vietnam-visa.com. In your message, please provide us the following information:
Visa type;
Arrival date;
Purpose of visa;
Applicant's details: full name, nationality, date of birth, gender, passport number and passport expiry date.
To make sure you do not provide wrong personal information, you do not need to specify applicant's details, but send us a soft copy of your passport and we will complete your information on your behalf.
3. Phone call
Even in case you do not want to compose an email, you still can request the visa approval letter by making a phone call to us at +84.473.005.333 (ext. 221 or 224) or +84.946.583.583 and informing us the same information as the request made via email.
4. Facebook
In case you are on facebook, you still can apply for visa approval letter via this channel. Just inbox us the same information as in the request made via email. And to ensure correct information, you can attach soft copy of your passport thereon.
Here is the link of our fanpage: https://www.facebook.com/VietnamVisaService/.
5. Livechat
Do you see a small window on bottom right corner of our website. It is also another place to receive your request. Just feel free to chat with us to request your visa approval letter right now.
Do you find which is the most convenient for you?
How Vietnam visa on arrival works
Getting a visa on arrival to Vietnam is perhaps a little bit more complicated than getting a visa on arrival for Laos, Thailand and Cambodia. While the latter requires you to do nothing before departure, visa on arrival for Vietnam requires you to obtain a visa approval letter beforehand. Without such letter, you will not be able to get on flight for Vietnam.
Entire process of getting a visa for Vietnam of this kind is summarized in 4 steps as follows:
Complete an online form with required information, including:

Vietnam visa types (1 month or 3 months, single or multiple entry);
Visa purpose (business or tourist);
Travel dates;
Full name;
Date of birth;
Gender;
Passport number;
Passport expiry date;

Pay for service fee. (this fee can be found at https://www.vietnam-visa.com/vietnam-visa-fees/);
Get visa approval letter via email within 2 working days; and
Finally, get visa stamped upon arrival at Vietnam airport.
Since its launch in 2004, this kind of Vietnamese visa has been soon preferred by thousands of travelers to Vietnam for its:
Convenience;
Simplicity;
Time and cost saving; and
Last-minute application.
Why this kind of visa is said connected with such advantages? You can see here for the answer.