You have a document issued outside Vietnam and you wish to use it in Vietnam. You then make a search on google for what you should do. Some results show that you need to get an apostille stamp, some suggest you to get it legalized. What you should do then. This post will give you the exact answer.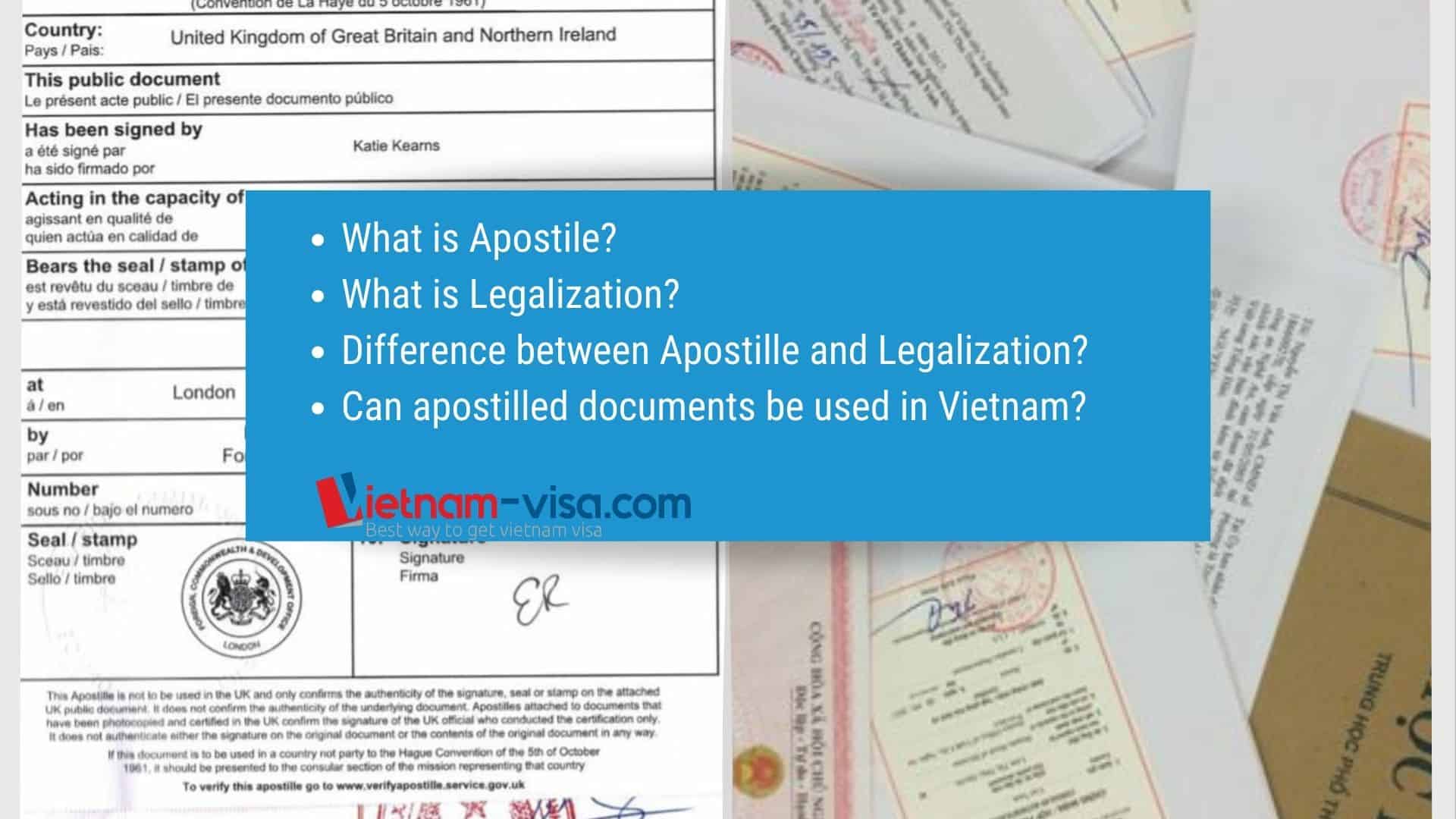 1. What is Apostille?
An "apostille" is a form of authentication/certificate issued to documents for use in countries that participate in The Hague Convention of 1961 which is the convention on abolishing the requirements of legalization for foreign public documents. As such, it is also called as "Hague Apostille"
It certifies authenticity of the signature and the capacity in which the person signing the document has acted and, where appropriate, the identity of the seal or stamp which it bears.
When a document is sealed with an Apostille stamp, it can be used in one of the Hague Convention countries without carrying out any further acts.
How does an Apostille stamp look?
An Apostille stamp (certificate) is normally a square and formatted into numbered fields. It is often stamped on the back of a document. However, when a document has print on both sides, it may be placed in the most suitable position, which may be on the front.
A typical Apostille certificate shows the following information:
Country of issue
Name of person who signed the document
The capacity in which the person signed the document
Details of any seal on the document
Place of issue of Apostille certificate
Date of issue
Issuing authority
Apostille Certificate number
Stamp of issuing authority
Signature of representative of issuing authority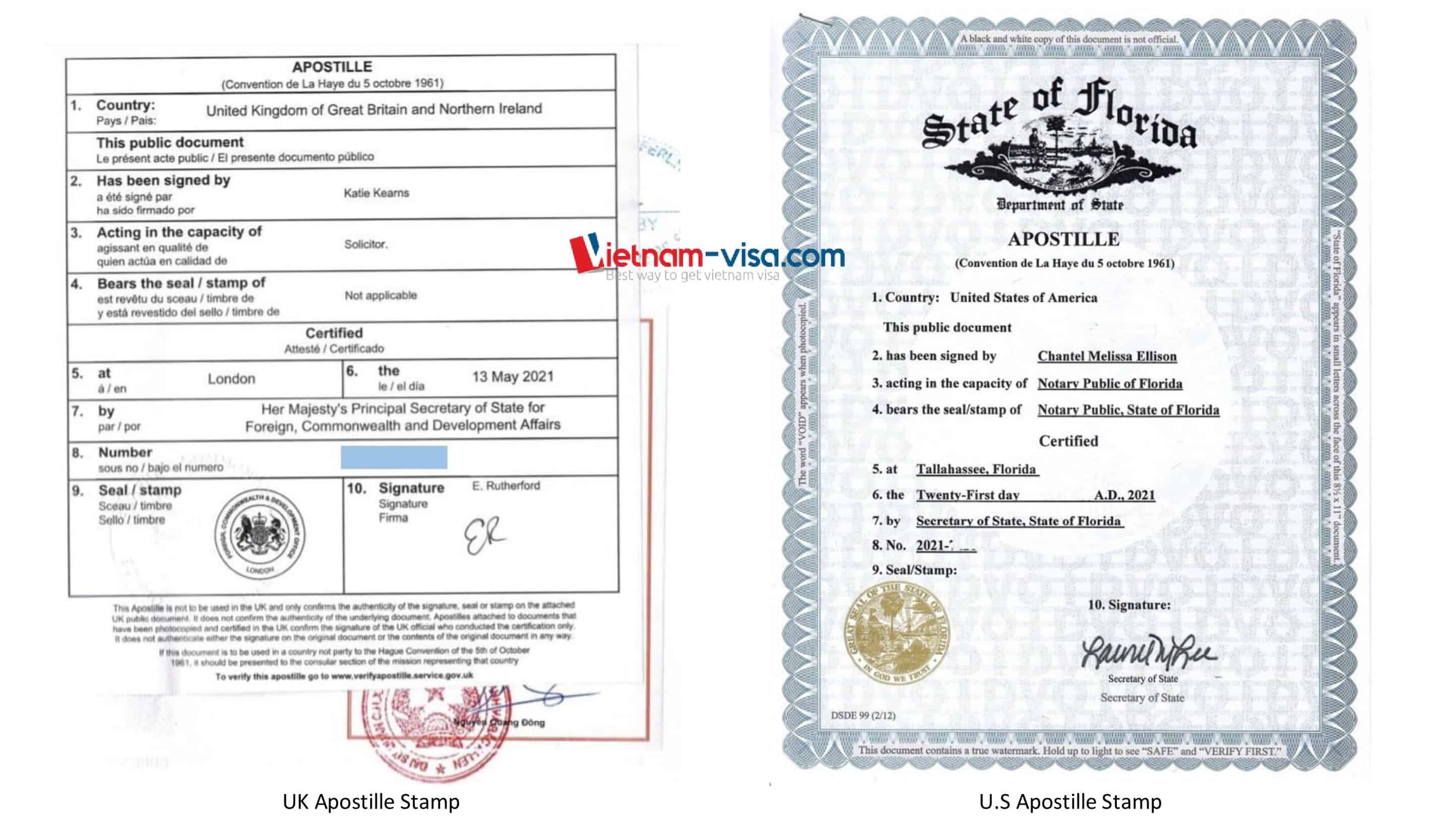 List of Hague Convention Apostille countries
As last updated on website of The Hague Conference on Private International Law (HCCH), there are, up to now, up to 120 contracting countries to the Apostille Convention (Hague Treaty Convention) as follows:
Albania
Andorra
Antigua and Barbuda
Argentina
Armenia
Australia
Austria
Azerbaijan
Bahamas
Bahrain
Barbados
Belarus
Belgium
Belize
Bolivia
Bosnia and Herzegovina
Botswana
Brazil
Brunei Darussalam
Bulgaria
Burundi
Cape Verde
Chile
China, People's Republic of (Hong Kong & Macao Only)
Colombia
Cook Islands
Costa Rica
Croatia
Cyprus
Czech Republic
Denmark
Dominica
Dominican Republic
Ecuador
El Salvador
Estonia
Eswatini (Swaziland)
Fiji
Finland
France
Georgia
Germany
Greece
Grenada
Guatemala
Guyana
Honduras
Hungary
Iceland
India
Ireland
Israel
Italy
Jamaica
Japan
Kazakhstan
Korea (Republic of Korea)
Kosovo
Kyrgyzstan
Latvia
Lesotho
Liberia
Liechtenstein
Lithuania
Luxembourg
Malawi
Malta
Marshall Islands
Mauritius
Mexico
Republic of Moldova
Monaco
Mongolia
Montenegro
Morocco
Namibia
Netherlands
New Zealand
Nicaragua
Niue
Republic of North Macedonia
Norway
Oman
Palau
Panama
Paraguay
Peru
Philippines
Poland
Portugal
Romania
Russian Federation
Saint Kitts and Nevis
Saint Lucia
Saint Vincent and the Grenadines
Samoa
San Marino
Sao Tome and Principe
Serbia
Seychelles
Singapore
Slovakia
Slovenia
South Africa
Spain
Suriname
Sweden
Switzerland
Tajikistan
Tonga
Trinidad and Tobago
Tunisia
Turkey
Ukraine
United Kingdom of Great Britain and Northern Ireland
United States of America
Uruguay
Uzbekistan
Vanuatu
Venezuela
List of 120 Apostille countries
Who can issue an Apostille?
In most cases, the competent authority which can issues an apostille stamp is the Ministry of Foreign Affairs of the document's issuing country.
Which documents are eligible for an Apostille certificate?
According to The Hague Convention 1961, an Apostille stamp is issued for public documents of Apostille countries which are:
documents emanating from an authority or an official connected with the courts or tribunals of the State, including those emanating from a public prosecutor, a clerk of a court or a process-server ("huissier de justice");
administrative documents;
notarial acts;
official certificates which are placed on documents signed by persons in their private capacity, such as official certificates recording the registration of a document or the fact that it was in existence on a certain date and official and notarial authentications of signatures.
The public documents under the convention shall not be:
documents executed by diplomatic or consular agents;
to administrative documents dealing directly with commercial or customs operations.
2. What is legalization?
As also defined in the Hague convention 1961, legalisation means the formality by which the diplomatic or consular agents of the country in which the document has to be produced certify the authenticity of the signature, the capacity in which the person signing the document has acted and, where appropriate, the identity of the seal or stamp which it bears.
For documents to be used in Vietnam, the authority competent for a Vietnam consular legalization can be:
the Ministry of Foreign Affairs of Vietnam, or
Embassy/Consulate of Socialist Republic of Vietnam in foreign countries.
The legalization often follows the step of authentication of documents by competent authority of the issuing country unless the involved documents are exempted from the authentication step. And it is the required process for non-public documents of Apostille countries or all documents of non-Apostille countries.
3. Difference Between the Apostille and Legalization
Is Apostille the same as Legalization is the most frequently asked question when it comes to those terms.
Normally, they are the same in purposes of use. However, they are completely different in terms of applicable countries and documents, and procedures of which the legalization is much more complicated.
Criteria

Apostille

Legalization

Purposes of use

Both apostilled and legalized documents will be used in a country rather than their issuing ones for the following common purposes:

permission to work abroad;
incorporation of companies in other countries;
marriage with foreign citizens in other countries;
admission to educational institutions abroad;
import and export,
foreign immigration,
etc.

Applicable countries and documents

Public documents of Apostille countries

Non-public documents of Apostille countries and all documents of non-Apostille countries

Procedure

The Apostille procedure often involves in 02 steps as follows:

Notarization/certification (if required, depending on country and document type);
Apostille – carried out at the competent authority of the issuing country, usually the Ministry of Foreign Affairs.

The legalization procedure often involves in 03 steps as follows:

Notarization/certification (if required, depending on country and document type);
Authentication – carried out at the competent authority of the issuing country, usually the Ministry of Foreign Affairs.
Legalization – carried out at the local embassy/consulate of the country where the documents will be used.

Fee

Apostille fee is lower than the full legalization fee.
4. Can I use my apostilled document in Vietnam?
No. Vietnam is not a contracting party to the Hague Convention, as such an Apostille stamp is not valid for Vietnam.
In case your document's issuing country is a Hague Convention Apostille country and your document is eligible for apostille certificate, you still need to have it legalized by the Vietnam embassy/consulate after getting it apostilled.
👉 Check How to legalize documents for Vietnam
So, we are now sure that you clearly know how to deal with your documents if you wish to use them in Vietnam.
👉 Should you have any questions, feel free to contact us at: