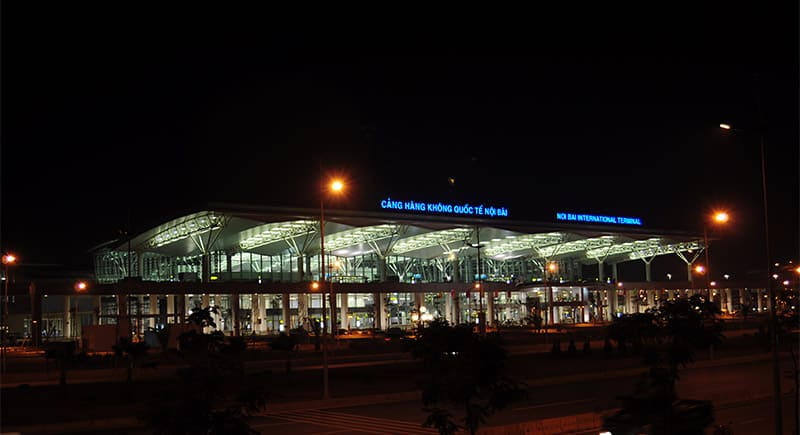 Hanh Pham

November 28, 2018
Since its introduction, Vietnam visa on arrival has become more and more popular among travelers to Vietnam. However, it works for travelers to Vietnam by air only. To get this kind of visa, travelers will need to obtain a visa approval letter beforehand, then get on flight to Vietnam and get visa stamped upon landing in Vietnam airport. It works at three international airports of Vietnam, consisting of Tan Son Nhat airport in Ho Chi Minh City, or Da Nang airport in Da Nang city or in Noi Bai airport in Hanoi city.
This post will provide you with a detailed guide to pick up visa on arrival at each of these airports. But before the guide comes, we would like you to spend a little time to read some tips below to save time at the airport.
Before the trip, you should prepare some documents as follows:
Your original passport (more than 6 months validation with at least 2 blank pages)
The visa approval letter (printed in paper already)
The Vietnamese visa application form (Form N1 – also known as entry and exit form) with completed information and attached photo already. You can find this form attached together with the visa approval letter from us if you apply for Vietnam visa online with us. Unless, you can download it here: https://www.vietnam-visa.com/download-forms/.
Stamping fee (25$/person using 1 or 3-month single entry visa, and 50$/person using 1 or 3-month multiple entry visa). 
How to get the visa at Tan Son Nhat airport (Ho Chi Minh city)?
At Tan Son Nhat International Airport (Ho Chi Minh City), the Vietnam visa on arrival counter is situated on the left as you enter the immigration hall.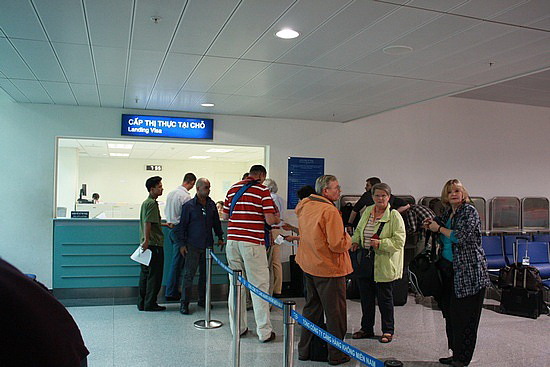 The Visa on arrival office is signaled with "Landing Visa – Cấp thị thực tại chỗ". You will come to this place first to submit your documents and get the visa into your passport.
How to get the visa at Noi Bai airport (Ha Noi city)?
At Noi Bai International Airport (Hanoi city), the Visa On Arrival counter is situated opposite the passport control. It is signaled by "Nơi cấp thị thực – Visa upon arrival". However, this signal may become unclear if there are lots of people.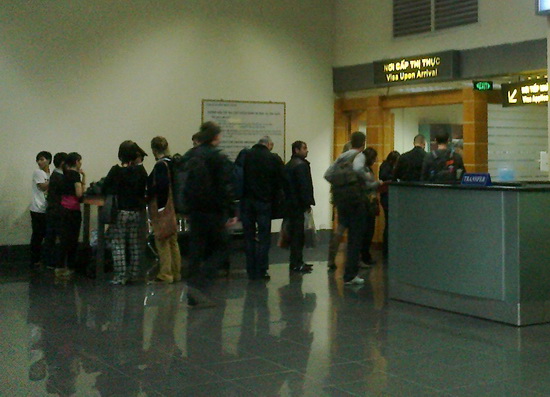 After submitting documents to Visa landing office, you need to wait while they process it. If it is busy, keep your eyes and ears open as they will call out your name or hold up your passport / photo. In this step, you will pay for the stamping fee.
If you get the visa with some passports for you and your friends, you will receive 1 pink receipt for all, the visas will already be in the passports. Check the visas for errors while still at the window. After receiving your passports back, proceed to the 'foreigners' Control passport counter and get the stamp into your passport.
How to get the visa at Da Nang airport (Da Nang city)?
At Da Nang International airport (Da Nang city), please follow the exit signs. As soon as you enter the huge hall it is very easy to find the Visa On Arrival window – it is on the left hand side and is clearly visible.
The process is quite quick here (approximately 15 minutes with all necessary paperwork completed before landing). After receiving visas / passports back, progress onward to Passport control to get the blue stamp into your passport.
This is detailed guide to pick up full visa on arrival. For how to apply for this kind of visa, please click here: https://www.vietnam-visa.com/how-vietnam-visa-on-arrival-works/.