By applying for Vietnam visa if required, you will not be refused for entry to Vietnam to discover the two biggest wholesale markets in Hanoi. Bustling from midnight to early morning of next day, the Long Bien Produce Market and Quang Ba Flower market are the two biggest wholesale markets in Hanoi. Besides, they are also popular destinations among those who want to discover the Hanoi' beauty at night.
Long Bien Produce Market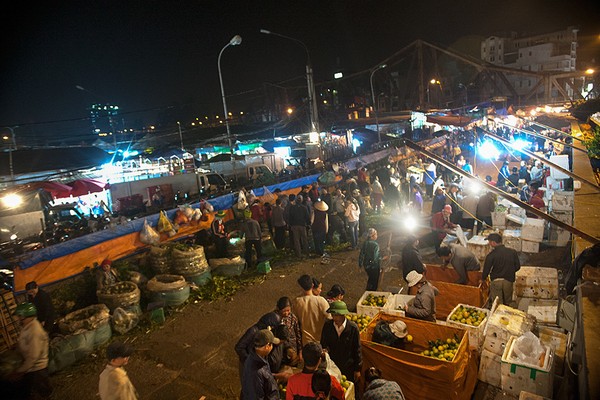 The Long Bien Market is the biggest market from which variety of fruit and produce are taken to every corner of Hanoi and other provinces in Northern Vietnam. It is considered an ideal destination to sell and buy fruit and vegetables in Hanoi.
Separated from the quiet air of Hanoi at night, the Long Bien market has remained its bustle for over 20 years. The market is most bustling from 10 pm to 5 am in the next morning regardless of the weather.
The Long Bien market attracts the tourists, thanks to its colorful appearance and its bustle. This is the reason why the market has just been voted as one of the best 7 streets market in the world by the Conde Nast Traveler Magazine. This is maybe a place in the wish list of all travelers.
For people in Hanoi, Long Bien is one of the markets clearly indicating one corner of the Vietnamese culture.
Being the biggest produce wholesale market in Hanoi, the Long Bien market is bustling from midnight to early morning. And this is also why you should make your way here before sunrise.
Quang Ba Flower Night market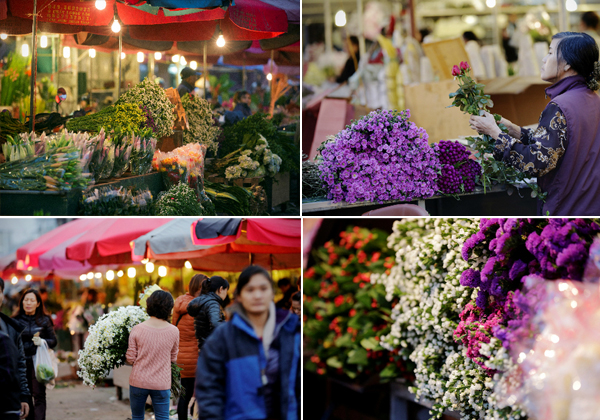 Quang Ba flower night market was originally a small flower market at the three-way intersection of Nhat Tan ward in Hanoi. Due to demand on production and distribution of flowers planting villages surrounding the market, such a big Quang Ba Flower Night market has been formed.
The market starts its activities from very early in the morning, often from 1 am. This is the biggest flower wholesale market in Hanoi which provides almost flowers in Hanoi and some neighbouring provinces.
Coming to the market, people will be impressed by its colorful appearance and bustling air regardless of it is hot or cold.