Whenever you plan a visit to Dubai (UAE), the first thing you need to do is to check whether you need a visa for Dubai or not, and if the answer is yes, how to get Dubai visa for your trip.
Don't look around, we provide you all information in this post.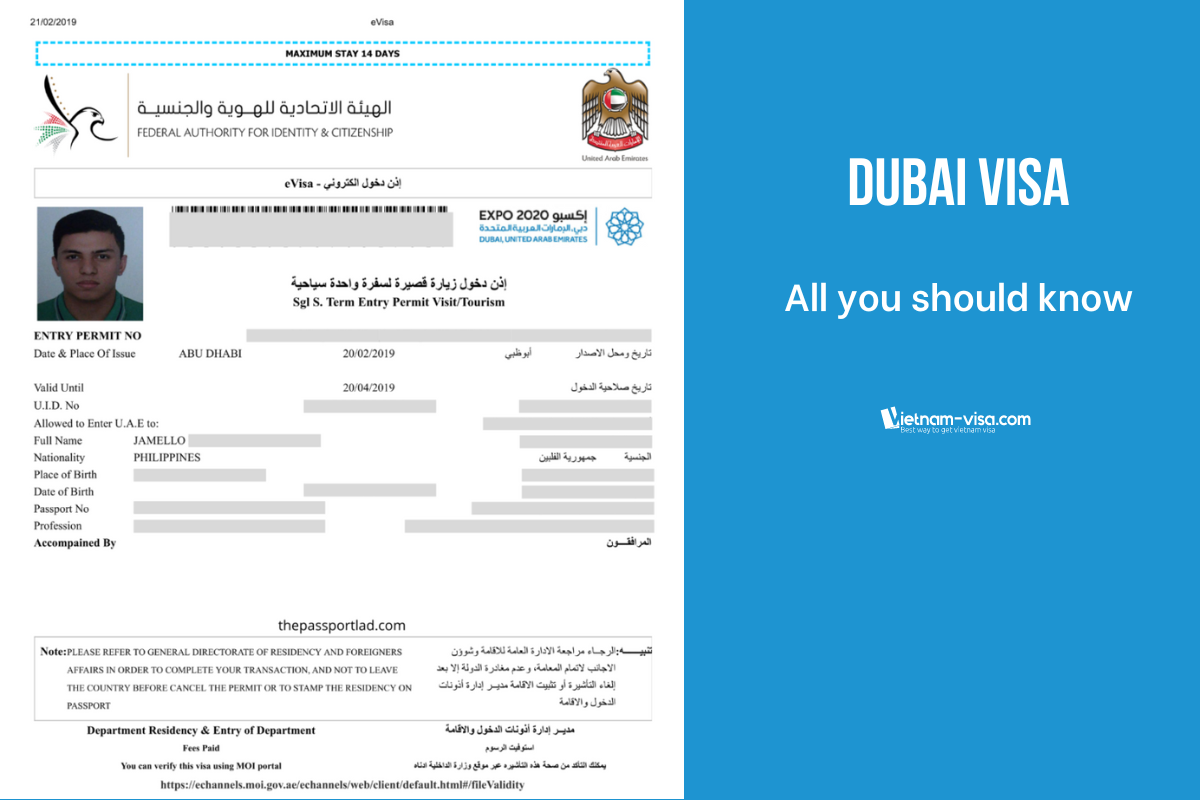 1. Do I need a visa to enter Dubai (UAE)?
This is the very first thing that you need to know before every trip to Dubai.
Travelers to Dubai will be divided into 3 groups:
Dubai visa-free countries
Dubai free-visa-on-arrival countries, and
Required pre-arranged Dubai visa countries.
Now, let's look at the composition of each group.
Dubai Visa-free countries
According to the latest Dubai visa rules, the citizens of GCC countries will be FREE from visa for every trip to Dubai, no matter how long it is.
The GCC countries are:
Bahrain
Kuwait
Oman
Qatar
Saudi Arabia
Notes:
Citizens of those countries can enter Dubai with an ID Card or GCC country passport
GCC residents (those holding a resident visa of Saudi Arabia, Qatar, Kuwait, Bahrain, and Oman) traveling to Dubai are not eligible for this rule.
Dubai free-visa-on-arrival countries
Additionally, citizens of the following countries are eligible for FREE visa on arrival. They will NOT need to do anything before departure, but go straight to the Immigration counter at the airport of Dubai and get a visa-free arrival stamp.
However, in order to get visa on arrival, those travelers must fly with any one of the approved airlines, such as Emirates, Etihad, Air Arabia, Air Astana, Flydubai, Turkish Airlines, and Indigo Airlines. Otherwise, they can apply for an e-visa for Dubai before departure.
Here is the list of Dubai visa-on-arrival countries and maximum duration of stay:
180-day Dubai visa on arrival is granted to citizens of following countries:

Mexico (For holders of normal passports only; non-ordinary passports are visa-exempt for 90 days within any 180 days instead)

90-day Dubai visa on arrival is granted to citizens of following countries:

Georgia (For holders of normal passports only; non-ordinary passports are visa-exempt for 90 days within any 180 days instead)

Germany

Paraguay

Argentina

Greece

Peru

Bahamas

Honduras

Poland

Barbados

Hungary

Portugal

Belarus

Iceland

Romania

Belgium

Israel

Saint Vincent and the Grenadines

Bulgaria

Italy

San Marino

Chile

Kiribati

Serbia

Colombia

Latvia

Seychelles

Costa Rica

Liechtenstein

Slovakia

Croatia

Lithuania

Slovenia

Cyprus

Luxembourg

Solomon Islands

Czech Republic

Maldives

South Korea

Denmark

Malta

Spain

El Salvador

Montenegro

Sweden

Estonia

Nauru

Switzerland

Finland

Netherlands

Uruguay

France

Norway

90 days within any 12 months

Brazil (For holders of normal passports only; non-ordinary passports are visa-exempt for 90 days within any 180 days instead)

30 days

Andorra

Japan

Singapore

Australia

Kazakhstan

Ukraine

Brunei

Macao

United Kingdom (Only applicable for British citizens, British Overseas Territories citizens and British Subjects who have a certificate of entitlement to the right of abode.)

Canada

Malaysia

China (including holders of passports for public affairs)

Mauritius

Hong Kong

Monaco

United States

Ireland

New Zealand

Vatican City
Required pre-arranged Dubai-visa countries
The citizens of the countries not included in the lists above, or citizens of Dubai visa-on-arrival countries who do not enter Vietnam with approved airlines will be required to obtain a valid visa for Dubai before departure.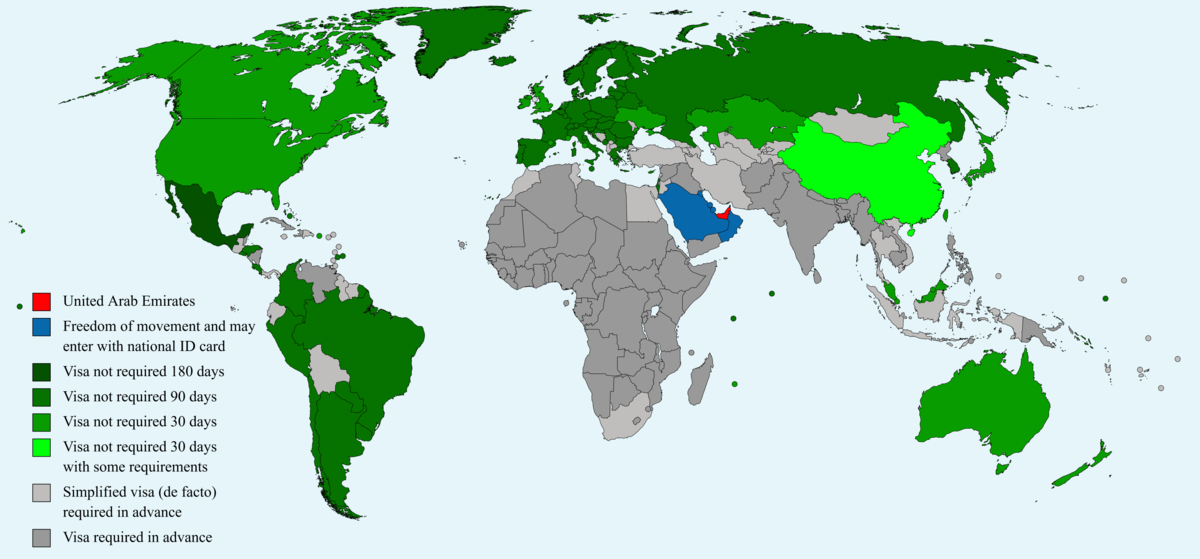 2. Types of Dubai visa
The types of visas for Dubai may be varied depending on how we categorize it.
Regarding the purpose of visit, the Dubai visa is categorized into the following main types:
Dubai Tourist Visa which is issued for tourism purposes or any other purpose which is shorter than 60 days and does not require you to take up employment and long-term residence Tourist visa (pleasure travel visas)
UAE Residence Visas are for foreigners who wish to relocate to the UAE. This includes:
Long-Term Residence Visa (Investor Visa), which is issued for a period of 5-10 years and does not require a sponsor. However, you must invest a substantial amount of money in the UAE to qualify for this type of visa.
UAE Transit Visas, which are issued to foreigners who have to transit through the UAE. These types of visas are issued for 48 or 96 hours.
Regarding visa validity, the Dubai visa is divided into:
48-hour visa.
96-hour visa.
14 days Single entry short-term visa.
30 days Single entry short-term visa.
90 days visit visa.
Multi entry long-term visa.
Multi entry short-term visa.
Regarding form of visa, the Dubai visa is divided into:
Visa on arrival,
eVisa, and
embassy visa.
In this post, we will guide you through how to get a pre-arranged visa for Dubai.
3. How to get Dubai visa
At the moment, there are 4 ways to get a visa for Dubai, consisting of:
Getting Dubai visa at the UAE embassy/consulate in foreign country;
Getting a Dubai evisa, via:

Approved airlines, including Etihad Airways, Emirates Airline, Fly Dubai, Air Arabia

A licensed travel agency, or
Important notes:
You cannot apply for Dubai evisa yourself but through an agent.
Here are the things you should know about those ways of obtaining visa to Dubai.
3.1 How to get Dubai visa at embassy
As the documents and procedure to obtain a Dubai visa this way varies by embassy/consulate, so you are highly recommended to contact the competent authority for details.
However, we don't recommend this way of applying for Dubai visa as it takes time and effort.
3.2 How to get Dubai evisa
3.2.1. What is Dubai eVisa?
Dubai eVisa (or Dubai electronic visa) is an official document that provides authorization to travel to and from Dubai and is electronically linked to your passport.
It is available for anyone who needs a visa for Vietnam for a leisure or business trip.
3.2.2. How long can I stay in Dubai with an eVisa?
Visitors with an eVisa can enter to the UAE for a maximum of 60 days in total for a Single Entry. Your visit is strictly limited to business or tourism, so you can NOT seek paid work or employment.
3.2.3. How to get Dubai evisa with Emirates Airline
This way of applying for Dubai visa is only for passengers traveling with Emirates; passengers on other airlines cannot use it.
To apply for a Dubai visa online with Emirates, you must have a valid Emirates booking.
You then need to
Access www.emirates.com, and select "manage a booking" tool.
Then select the portion of the journey for which a visa is required, and the names of the passenger(s) applying for a visa, before supplying the details and documents required to process the application, along with payment.
After your application is complete, your visa application will be normally processed in 4 working days.
3.3.4 How to get Dubai evisa with us
This is considered the easiest and most flexible way to get a valid visa for Dubai, as it requires you to neither visit any embassy/consulate of Dubai nor fly with Emirates, nor find any sponsor in Dubai to support you.
👉3.3.4.1. What are the documents required to apply?
The first thing you need to do is to see whether or not you meet the requirements. However, you do not have to worry because they are easy to achieve. Here is what you must provide so that we can expedite your visa:
Valid passport – all applicants are required to have a passport that maintains its validity for at least another 6 months from the date of arrival in Dubai.
A passport scan – make sure that the scan in JPEG format.
Passport photo – the photograph needs to meet the standards of a passport photo. Make sure that it is taken against a white background, and you look straight at the camera. Do not wear glasses, and headwear is not allowed unless you have religious reasons.
Valid e-mail address – when you apply online, a copy of your visa will be sent to you via e-mail. Make sure that you have access to your account since you need to print out the visa.
Means of payment – you will be asked to make the payment during the application process, which is why you need a method of online payment. We accept credit/debit cards, PayPal.
Keep in mind that children, even the ones that travel in your lap, need their own visa, so you need to provide a photo for them, a copy of the passport, and a birth certificate in English or Arabic.
👉3.3.4.2 How can I apply for a Dubai eVisa?
The application for a Dubai eVisa with us has only three easy steps:
Contact us at +84.946.583.583 and tell us your demand, including arrival date and processing time, and provide us with your passport scan. Other documents may be required as well, but it depends on personal circumstances.
The second step will ask you to make the payment.
The last step is to wait and get your Dubai visa within your expected processing time.
👉3.3.4.3. What are the processing times and prices of Dubai evisa?
Two options for 30-day Dubai evisa are available:
Standard processing – your visa application is processed within 2 Business Days, and the price is USD $155 (service fees included).
Super rush processing – this is the fastest option. You will get your eVisa in only 1 Business Day, and you will be charged USD $220 (service fees included).
4. FAQs
Do I Need a Separate Dubai Visa if I Have a UAE Visa?
No, you do not. There is actually no separate "Dubai Visa" since Dubai is not a country on its own; it is part of the UAE. If you have a visa allowing you to enter the UAE, then you can travel to any of its emirates, Dubai included.
What Happens if I Overstay in Dubai on a Tourist Visa?
If you overstay your Dubai visa, you will have to pay a fine of AED 100 for every day that you have overstayed. If you know you need to stay longer, you should apply for a visa extension.
Can You Work in Dubai with a Tourist Visa?
No, you cannot. A tourist or visitor visa for UAE does not authorize the holder to work. If you want to take up employment, you must apply for a UAE Work Visa and Work Permit.
If you work in the UAE without authorization, even if you're not paid, you will be deported and may have to pay a fine.