Ho Chi Minh City, also called Saigon, may have been known as the little Paris of the East in the 50s to 60s, yet nowadays, it is a bustling architectural shambles. For those travelers with the first time in Ho Chi Minh City, it sounds a little bit challenging to know what to do, where to go because this hustle and bustle city is abundant in unique landmarks, tourist sites and interesting activities.
Not only is Saigon a popular tourist destination, but it is also widely known as the business and financial hub of Vietnam. In addition to classic French architecture and sleek skyscrapers, Saigon is also famous for fascinating culture and ornate pagodas and temples.
Traveling to this vibrant city, you will have a chance to explore famous destinations, delicious specialties and meet friendly Vietnamese. Indeed, the city offers a lot for one to see, do and taste to truly sense its depth. Check out our travel guide to plan out your trip to this vibrant city.
General Info about Ho Chi Minh City
Location: Ho Chi Minh City is located near the Mekong Delta, approximately 1,760 km south of the capital of Vietnam – Hanoi. As the largest city in Vietnam, Saigon has an area of 2095 square kilometers (908 square miles) and 7 million populations. Though Ho Chi Minh City is the economic capital, cultural trendsetter and second heart and soul of Vietnam, within this teeming metropolis there are timeless traditions and beauty of such an ancient culture.
Weather: Saigon has a tropical moon soon climate which you can expect it to be either hot and wet or hot and dry. At here, sunshine is not too hot and the rain is fast to cease. The average temperature is about 28°C (82°F). The peak is about 39 °C (102 °F) at noon time in late April and the lowest is below 16 °C (61 °F) in the early morning in December. Due to having two distinctive seasons, dry and wet, you will never need more than one clothing layer in this city.
Best time to visit: It could be said that anytime in the year is a good time to visit Ho Chi Minh City. But, according to travelers' experiences, you should visit the city during the dry season, from December to April. This is the hottest period in the year with average temperature of 30°C (86 °F). However, it is still fun (and could be rather cheap) to visit Saigon during rainy season, yet don't forget bringing along a raincoat or an umbrella when going out in the late afternoon because it might be rainy all of a sudden.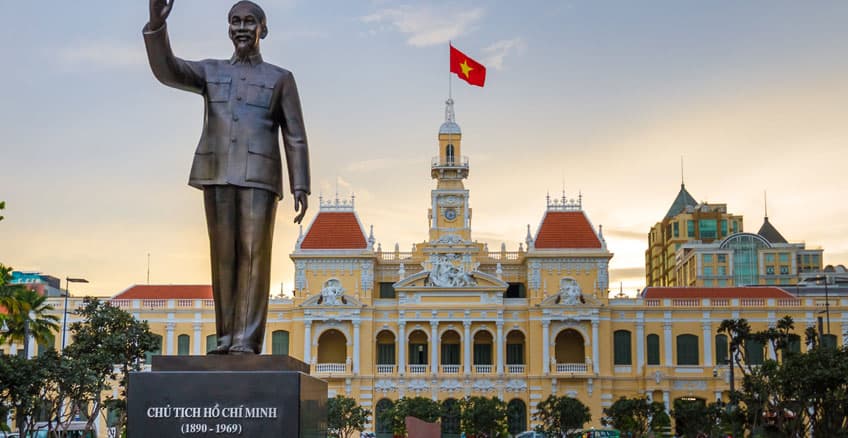 Ho Chi Minh City History
Saigon used to be part of the Kingdom of Cambodia. It began as the Khmer fishing village of Prey Nokor. Then, when more settlers moved south, the region was absorbed by Vietnam and became the base for the Nguyen Lords.
In 1859, Saigon was captured by French. This colonization affect the city heavily, leading it be called "Paris in the Orient". In 1954, the French withdrew from Vietnam after the Dien Bien Phu battle between Communist Viet Minh and the French. This city served as the Republic of Vietnam's capital during the period of 1956-1975.
In 1975, the Vietnam War ended and there was an event called "Liberation of Saigon." In 1976, unified communist Socialist Republic of Vietnam was born. Saigon city, Gia Dinh province and other districts merged to form Ho Chi Minh City as nowadays to commemorate Ho Chi Minh – the late communist leader of Vietnam.
Ho Chi Minh City's Culture
Owing to the geographic position along with convenient climate, Ho Chi Minh City is home to many ethnic groups. Each one has its own distinct culture and religion and they have contributed in making such a multicultural environment.
The special trait of Ho Chi Minh City is the perfect blend between Vietnam's national tradition and culture characteristics and the Western countries. All combine to create current lifestyle and features of Saigoneses. They are straightforward, faithful, energetic, and broad-minded and have strong-willed spirit.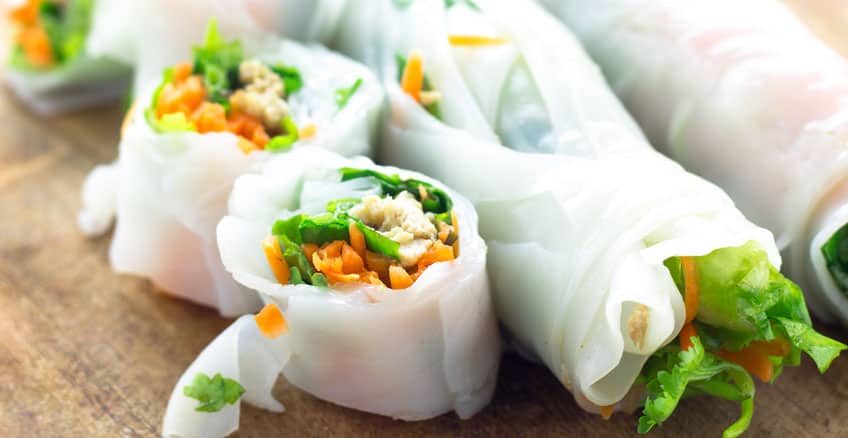 Ho Chi Minh City's food culture
Ho Chi Minh City's Food Culture
Foodies should not skip exploring Saigon food culture due to various choices and delicious taste. It partly explains why Saigon is loved by both local residents and foreign tourists.
"Nhậu" is a Vietnamese slang talking about drinking in Vietnam, especially in Saigon. Saigon has a number of drinking venues found in most small sidewalk stalls in the city. It is a way local people relax and entertain themselves after a hectic day at work, particularly on Friday evenings.
Another interesting feature about Saigon food culture is the lovely image of carrying poles on shoulders of local women street vendors – Ganh Hang Rong. The time that this sort of traditional business first appeared has not been defined yet, but its image has been imprinted in Vietnamese's memories for generations. Regardless of the sudden rains or heat of Saigon, these women still keep earning their living on those carrying poles with food rolling carts.
Some best street foods in Saigon you have to try are Banh Mi (Vietnamese sandwich), Bun Mam (fermented fish soup), Banh Xeo (savory crepe), Goi Cuon (fresh spring rolls), Cang cua and oc (crab claws and snails), Banh Trang nuong (Vietnamese pizza), Com tam (rice with fish or meat), and Bo la lot (minced beef wrapped in the wild betel leaf).
In fact, most tourists visiting Vietnam are amazed at the omni-presence of rice as well as rice-related dishes. A lot of main dishes and snacks listed above are made from rice.
What to Do and Where to Go In Ho Chi Minh City?
Travelers with the first time in Ho Chi Minh City have a lot to love and explore in this vibrant hub. Many of the most famous attractions center are around the event of 20th century war and conquest.
Being the most booming up and coming city of Vietnam, the rhythm of living in Ho Chi Minh City has never stopped. There are so many things to do here, whether you are a fan of art, history, culture, cuisine or nightlife.
With so many options, travelers worry that they will miss something out. Don't fret, our checklist of what to do and where to go in Ho Chi Minh City will help you lay out a detailed plan for the first time in Ho Chi Minh City.
1. Contemplate Saigon Notre-Dame Cathedral
To experience the cultural blend making Ho Chi Minh City one of the biggest melting pots of Southeast Asia, you can visit Notre Dame Cathedral, which is the soaring basilica established by the French in the 19th century.
This attraction is particularly suitable for those travelers with just one day in Saigon. It has an elegance beauty that offers a beautiful glimpse of a bygone era in the city. Inside the cathedral, you will see wooden pews, beautiful stained glass windows, and classic plaid floor tiles.
Independence Palace in Saigon
2. Visit Independence Palace
The independence Palace is also called Reunification Palace which is an absolute must among attractions in Ho Chi Minh City. The site is famous for images of tanks that crash through gates during the Fall of Saigon in 1975. In addition to impressive architecture and stunning grounds, the interiors of this building will make you feel like back in time.
3. Explore the History In Cu Chi Tunnels
This is a marvelous tourist site giving tourists a chance to experience how Vietnamese soldiers used an extensive tunnel network to move around undetected by their enemies. More interesting, the visit is also accompanied with an informative movie to watch and a guided tour of mock recreations of daily life for Viet Cong hiding in the jungle.
4. Haggle In Saigon's Markets
Home to 8 million people, Saigon is a must-visit Shopping enthusiasts and people with the first time in Ho Chi Minh City. There are a lot of interesting markets here and many of them are perfect to purchase the latest electronic gadgets and indulge in street food. Most of them are located in the tourist-friendly District 1.
Ben Thanh Market, Binh Tay market (Cholon), An Dong Market are among the best markets for travelers to shop in. among them, Ben Thanh buzzing market is probably the most famous which is full of history and shopping stalls galore. Don't forget to haggle since that is what to do in Ho Chi Minh City to get a bargain.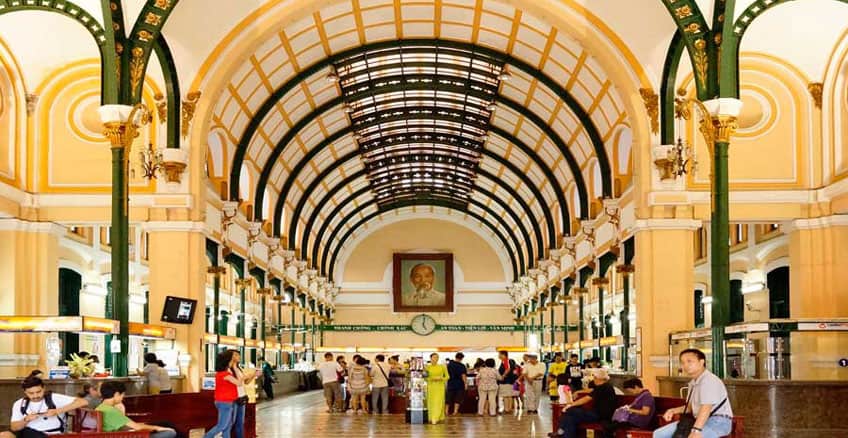 Saigon central post office
5. Saigon Central Post Office
The Central Post Office is one of top tourist attractions in Ho Chi Minh City, partly because it was designed by Gustave Eiffel – the man engineering the Eiffel Tower in Paris.
Preserved well in compared with its first original state in 1891, the post office is a typical example of French colonial architecture. In spite of giving visitors a fascinating glimpse into history, this building still functions as the main post office of the city. If having a chance to visit this site, it is encouraged to send a postcard and letter from here to experience a piece of living history.
6. Gorge on Vietnamese Street Food
Travel and food is often attached harmoniously with each other. Saigon is a great paradise for food lovers both due to the tasty flavors and excellent combinations of Vietnamese food.
Since Ho Chi Minh City is the biggest Vietnam's city so people have to move from the countryside to the city, you can find almost everything from around Vietnam somewhere in the city. Hot bowls of the famous Pho (noodles with chicken or beef), Banh Mi sandwiches, bun rieu (crab noodels), Banh Khot (savory griddle cakes) are among great dishes to try in Saigon.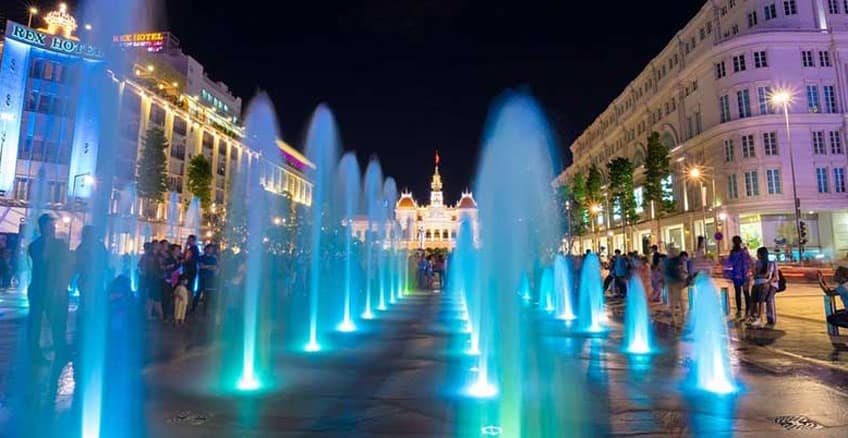 Nguyen Hue walking street in Ho Chi Minh City
7. Stroll Down Nguyen Hue Walking Street
This is a broad pedestrian promenade right in the middle of District 1, which is a very luxurious and attractive downtown area in Saigon. Here you will find beautiful French colonial architectural wonders like the Rex Hotel, People's Committee along with a shopping mall. At the end of the walking street, there is Saigon River allowing visitors to enjoy a nice view of Saigon with cool breeze.
Nguyen Hue Street is a 64m wide strip and an ideal location to reach for other sightseeing places like Saigon Opera House, Notre Dame Cathedral, the Reunification Palace, and Dong Khoi shopping street.
The difference between this walking street and others in the area is that it is lined with more than 200 trees along with 122 tubs of flowering creepers and has automatically-operated mist-emitting systems. This creates a comfortable greenish landscape easing your mind whenever you visit here.
8. Walk Around Dong Khoi Street
As mentioned earlier, Dong Khoi Street is the shopping heaven gathering high end boutiques and designer stores in Saigon.
In addition to upscale shopping, it is a nice site to walk around. Some people said that walking around Dong Khoi Street makes them feel like being somewhere in between France and Vietnam. There is a big contrast of the modern and tradition, old and new.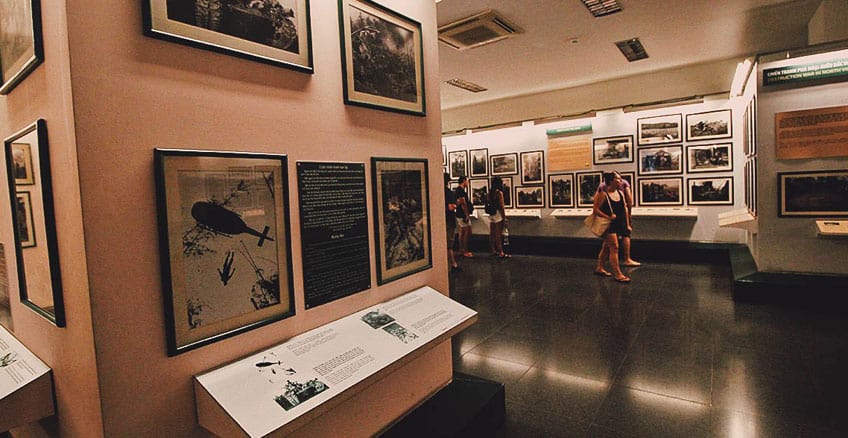 War remnants museum in Ho Chi Minh City
9. See War Remnants Museum
If having a chance to visit this museum, you will probably leave it without feeling good about humanity but that is the point. Being there, the museum reminds us of the war's horrors. Vietnam War in the eyes of most people is something happening in a faraway place and time – not for current Vietnamese people. This museum shows us the struggles endured by Vietnamese people and the real people affected by it.
10. Visit Jade Emperor Pagoda
Jade Emperor Pagoda is among the most important Taoist pagodas and temples in the city. As one of Saigon attractions, it is dedicated to the god Jade Emperor of Taoism. It is really a peaceful break from the hustle and bustle of incessant traffic out there.
In addition to the most recommended things to do above, there are also other worth-trying activities in Saigon not to be missed, including seeing Saigon from above at the Bitexco Financial Tower, getting infuriated and emotional at War Remnants Museum, visiting Thien Hau Pagoda, going to Water Puppet Show, enjoying incredible Ho Chi Minh nightlife, and taking a day trip to the Mekong Delta.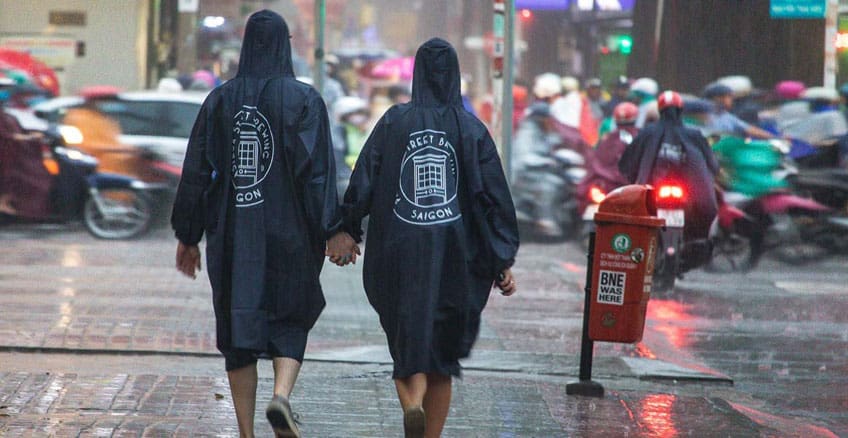 Travel Tips In Saigon
1. Be Alert of Scam
In general, Saigon is safe to visit. However, like other developing cities in the world, there are also some things travelers should note to keep out of trouble, which is being piled with alcohol or pick-pocketed. So, travelers should be keep their bags secured when traveling by motorcycle and keep their unnecessary valuables in the hotel for safety.
2. Visa Extensions
The majority of travel agents can help travelers get visa extensions in less than one week or even shorter depending on your need.
If you are going to visit Vietnam but still have not had a visa yet, we can help you get a Vietnam visa. If you want to extend your Vietnam visa, check out our Vietnam visa extension service.
3. Let The Motorcycles Avoid You
A tip on crossing Saigon streets, rather similar to Hanoi streets, is to let motorbikes riders avoid you. Saigon traffic is "order in chaos". Always cross at a steady pace. If you travel in a small group, try to form a straight line parallel with the curb and keep remaining that line until you get to the other side. No stopping, stragglers or toots.
4. Shop for Branded Clothes At Half of Official Prices
It is not necessary to waste money in branded stores at Vincom or other plazas because Vietnam is clothes factory of the world. You can shop for branded name clothes items like H&M, F21, Mango, and Zara at fashion streets like Hai Ba Trung, Le Van Sy, Nguyen Trai streets at affordable price.
5. Bargain Half The Price and Walk Away
When shopping, travelers going to Ho Chi Minh City for the first time are advised to bargain half the opened price and then walk away as if they never want to go back and buy that item. If doing so, the seller will call you back with the price you have bargained. There you get the deal.
6. Don't Tip Local People Who Give You Directions
Instead of tipping locals for helping guide you, you can say "thank you" with a smile.
7. Tipping is Unavoidable in Vietnam
In Vietnam, tipping is something polite to do because local staffs do not get wages, but depend on just tips. A common tip is of USD$1 – $3.
There we have completed our guide of first time in Ho Chi Minh City. Now, it is your turn to navigate your way via bustling traffic, visit museum or market, slurp down a bowl of noodles and explore possibilities waiting for you in Ho Chi Minh City.
8. Exchange Currency at Banks and Gold/Jewelry Shops
In Ho Chi Minh City, the jewelry/gold shops around Ben Thanh market are said to provide the best exchange rates.
9. Bring an Umbrella or Raincoat to Avoid Sudden Rains
The rains in Saigon often fall all in sudden, especially between the months of July and December so it is highly advisable to keep an umbrella or raincoat in your bag at all time.
10. Get Around By Taxi, Motorcycles or Cyclos
The good news about moving in Saigon is that its attractions gather in close areas, so you can go to sightseeing on foot, by motorcycle, taxi or cyclo. For cyclos and motorcycles, make sure that you name your own price first.