1. What is "Vietnam entry and exit form"?
All those entering Vietnam will need to complete the entry and exit form to complete the immigration procedure. We are not sure about other Vietnam visa centers, but those applying for Vietnam visa approval letter via Vietnam-visa.com will be sent with this form.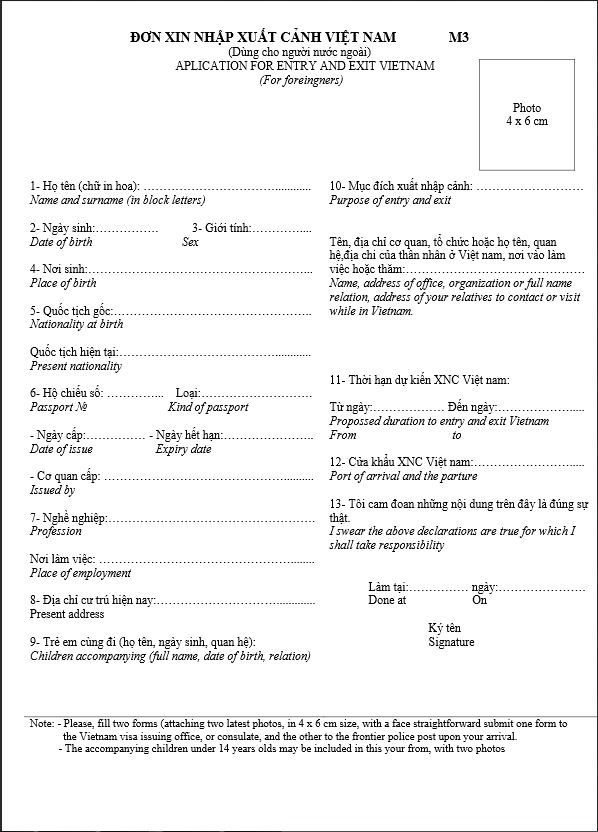 Normally, this form is done on checking in Vietnam airport. However, with an aim to save your time at Vietnam airport, we would like to send this form to customer beforehand to fill out and glue a passport-sized photo on it.
On the bottom of the 'Application for Entry and Exit Vietnam' form, it states that you should: "Please, fill in one form (attaching one latest photo, in 4 x 6 cm size, with a face straight forward) submit one form to the Vietnamese Immigration Checking point at Vietnamese airport.
This form together with visa approval letter, passport,1 photo and stamping fee, you need to submit at the Immigration Counter at the airport to get Vietnam visa stamped upon arrival. Thus, you do not need to submit to any other Embassy or Consulate.
2. Some important notices for filling the "Vietnam Entry and exit form"
There are some items in the forms may draw special attention of applicants. Following is some guidance for filling these items:
+ Item no 6. "Kinds of passport": Fill into the form the kind of passport you are holding: diplomatic passport, official passport or popular passport.
+ Item No 8. "Present address and phone number": Fill your permanent address and phone number that will be the easiest for us to contact
+ Item No. 10: Name, address of office, organization or full name of relation, address of your relatives to contact while in Vietnam.
You do not need fill in this item. You can leave it a blank. In the case that you travel with a travel agency, you can noted the name of this travel agency.
+ Item No 11. "Proposed duration to entry and exit Vietnam": You should fill:
– Either "single" (enter and exit Vietnam one time in the validity period noted in your visa) or
– "multiple" (enter and exit Vietnam more than one time in the validity period noted in your visa)
+ Item No 14. "Done at & on":
– For "Done at": Fill your port of arrival as you are supposed to submit the form and get your visa stamped there get.
– For "On" : You should note your real arrival date (the day that you check – in Vietnam airport)
+ The footer of the form: For those who have approval letter for visa on arrival should ignore this item as you are going to have you stamped at Vietnam airport, you need not to send anything to Vietnam Embassy.
In case you do not apply for Vietnam visa with Vietnam-visa.com, you still get this form at https://www.vietnam-visa.com/download-forms/.
For any Vietnam-destination information, please click here vietnam-beauty.com
We hope to see you in Vietnam and wish you a happy trip!