To be able to obtain a work permit in Vietnam, foreign workers are required to provide a health check (also known as health certificate or work permit health check). Many expats struggle with the process to get a health check for work permit in Vietnam due to not knowing clearly what they are getting themselves into. In order to have a seamless, effortless experience, please keep on reading to find out all you need to know about health certificates, here on Vietnam-visa.com.
This post will cover: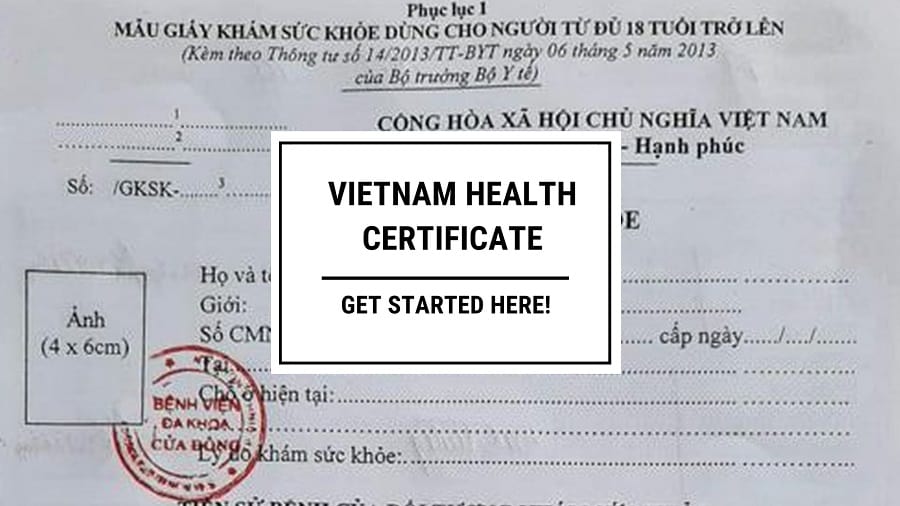 1. What is a Health Check?
A health check (or health certificate) is a document issued by a licensed hospital or medical establishment included in the Ministry of Health's Medical Services Administration's Official Dispatch 143/KCB-PHCN&GD dated February 5, 2015 and its amendments. Your health check certificate confirms that you are physically fit for the applied job position.
Unless you have already obtained a health certificate from your country, you must get medical checkups in licensed hospitals and medical establishments in Vietnam. Such medical establishments will be listed in the next section of this article.
To be used for work permit application, the Vietnam health check validity must be no less than 6 months from the date of issuance.
2. When do You Need to Obtain a Health Check Certificate in Vietnam?
If you are an expat living in Vietnam and seeking long-term working opportunities, you will need to apply for a work permit. Applicants for a permit to work in Vietnam are eligible when they fulfil the following:
Being 18 years of age or older
Being in good enough conditions to satisfy Vietnam health check requirements for the target job
Possess required technical skills or professional qualifications for the job
Have no previous conviction or criminal record and must not be subject to criminal prosecution or any criminal sentence in accordance with Vietnamese and foreign laws
That being said, under the law of Vietnam, an application dossier must include a medical certificate issued in the employee's foreign country. If the employee is residing in Vietnam, the health certificate must be granted under the regulations of the Ministry of Health.
In some other cases, foreigners might also need a health certificate to apply for admission to Vietnamese universities, colleges and other vocational institutions.
3. What are the Benefits of a Health Check Certificate to the Employee and Employer?
In addition to the sake of knowing your health conditions, you are obliged to submit a valid health certificate to apply for a work permit. This is the only way for you to work permanently in Vietnam,, or else you could face deportation along with a hefty fine. In such cases, your employer will suffer from a heavier fine and the possibility of having their business operations suspended. That being said, a medical check-up certificate is a must-have if you ever consider working long-term in Vietnam.
4. What does a Vietnam Health Check Look Like?
According to the Health Ministry's Circular 14/2013/TT-BYT dated May 6, 2013, the standard health check certificate is in Vietnamese. It will generally include a basic physical examination, blood and urine tests, a measure of your BMI, test for vital signs, a stool sample, an ECG and some other tests as required.
The first section of the certificate inquires about your name, personal information and a 4×6-centimeter photo. You are also bound to list out your allergies and other chronic diseases, along with your family's medical history. You hereby sign your name and certify that the above information given is true and correct as to the best of your knowledge.
The next sections will be filled by your medical doctor. Upon completion, he/she will sign at the end of the paper. The medical establishment will affix seals on your photo and across the doctor's signature, to confirm the validation of the certificate.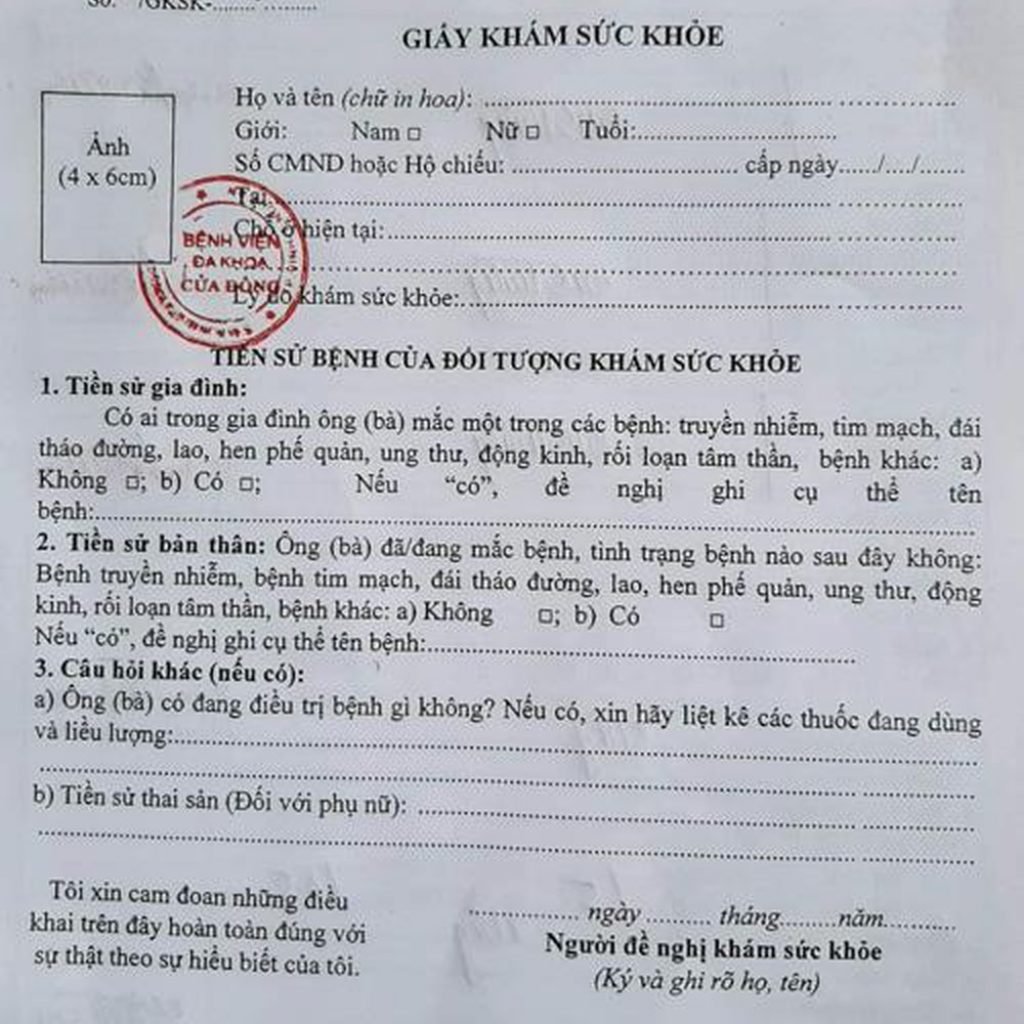 Be noted that if you're going for a regular medical check-up, the Vietnam health certificate form will be slightly different, which will be further advised by your employer and medical doctors.
5. Where can I get a Valid Health Check Certificate in Vietnam?
Where to take your work permit health check should depends on your place of residence.
Below is the list of establishments licensed to provide health-checkups for foreigners in Hanoi:
E Hospital;
St Paul General Hospital;
Duc Giang General Hospital;
Dong Da General Hospital;
Hoe Nhai General Hospital;
L'Hôpital Français de Hanoi;
Hong Ngoc General Hospital;
Thu Cuc International General Hospital;
Trang An General Hospital;
Hanoi General Hospital;
Vietlife Clinic;
Dr. Binh TeleClinic;
Bach Mai Hospital.
If you are residing in Ho Chi Minh City, you may reach the following health facilities:
Saigon General Hospital;
Nguyen Tri Phuong Hospital;
115 People's Hospital;
Trung Vuong Hospital;
Gia Dinh People's Hospital;
Hospital of Thu Duc district;
Hospital of Binh Thanh District;
Van Hanh General Hospital;
FV Hospital;
CITY International Hospital
Tan Hung General Hospital;
Vinmec Central Park International General Hospital;
Xuyen A General Hospital;
Hong Duc III Hospital;
An Sinh General Hospital;
Hoan My Sai Gon Hospital;
Saigon Columbia Asia International Clinic;
General Clinic under the Viet Gia Health Care Joint Stock Company;
General Clinic under Vigor Anbis Japan Joint Stock Company;
Raffles Medical General Clinic;
General Clinic under Y Khoa Hoang Khang Comany Limited;
General Clinic under Careplus International Clinics;
Nhan Hau International Clinics;
General Clinic under Dai Phuoc Health Company Limited;
General Clinic under Van Hai General Clinic Company Limited;
General Clinic (Clinic No. 2) under HCM City Family Medical Practice Company Limited;
If you are in other countries, just find the list of establishments offering health check for foreigners to get the work permit below:
Hai Phong:

Haiphong Viet-Czech Friendship Hospital

Institute of maritime medicine

Hai Phong Medical University Hospital

Quang Ninh

Quang Ninh General Hospital

Vietnam – Sweden Hospital, Uong Bi

Lang Son

Lang Son Central General Hospital

Lao Cai
Cao Bang

Cao Bang General Hospital

Yen Bai
Lai Chau

Lai Chau General Hospital

Dien Bien

Dien Bien General Hospital

Tuan Giao District Healthcare center

Son La
Phu Tho
Vinh Phuc
Bac Kan
Thai Nguyen

Thai Nguyen Central General Hospital

Bac Giang

Bac Giang General Hospital

Bac Ninh

Bac Ninh General Hospital

Thanh An – Thang Long General Hospital

Hai Duong

Hai Duong General Hospital

Hung Yen

Hung Yen General Hospital

Hoa Binh

Hoa Binh General Hospital

Ninh Binh

Ninh Binh General Hospital

Nam Dinh

Nam Dịnh General Hospital

Ha Nam
Thai Binh

Thai Binh General Hospital

Thanh Hoa

Thanh Hoa General Hospital

Thanh Ha General Hospital

Nghe An

Quynh Lap Central Hospital of dermatology and venereology

Ha Tinh
Quang Binh

Vietnam – Cuba Friendship Hospital, Dong Hoi

Quang Tri

Quang Tri General Hospital

Thua Thien Hue
Quang Nam

Quang Nam Central General Hospital

Da Nang
Quang Ngai

Quang Ngai General Hospital

Binh Dinh

Binh Dinh General Hospital

Quy Hoa Central Hospital of dermatology and venereology

Phu Yen
Khanh Hoa

Khanh Hoa General Hospital

Gia Lai
Dak Nong

Dak Nong General Hospital

Dak R' Lap General Hospital

Dak Song General Hospital

Ninh Thuan

Ninh Thuan General Hospital

Binh Thuan

Binh Thuan General Hospital

Tay Ninh

Tay Ninh General Hospital

Binh Duong

Binh Duong General Hospital

Columbia Asia International Hospital

Dong Nai

Dong Nai General Hospital

Dong Nai United General Hospital

Dong Nai International Hospital

Tien Giang

Tien Giang Central Hospital

Ben Tre

Nguyen Dinh Chieu Hospital

Tra Vinh

Tra Vinh General Hospital

Can Tho

Can Tho City General Hospital

Hoan My – Cuu Long General Hospital

Soc Trang

Soc Trang General Hospital

An Giang

An Giang Central General Hospital

Dong Thap

Dong Thap General Hospital

Kien Giang

Kien Giang General Hospital

Ba Ria – Vung Tau

Vietsovpetro Healthcare Center
6. How to Get a Health Check Certificate in Vietnam
Before you go, please make sure that you have 02 4 cm x 6 cm portrait photos of yourself and your passport with you. The photo must be taken in front of a white background and within the last 6 months to reflect your current appearance.
Upon arrival at the Hospital, just tell the staff there that you need a health checkup, they will give you a form for completion. And then, this is the procedure that you need to follow:
First, you shall submit your qualified form with your information properly filled on the first page. Such information includes:

Your photo
Full name (in capitals)
Gender
Age
Passport number and date of issue
Current address
Purpose of obtaining a health certificate
Family's medical history. Please specify if anyone in your family suffers from any infectious diseases, cardiovascular illnesses, diabetes, tuberculosis, bronchial asthma, cancer, epilepsy or mental disorder.
Your own medical history. Please specify if you suffer from any of the aforementioned diseases.
Your current medication treatment
Your obstetric history (for female applicants only)
Your signature and your full name written at the end

Upon the receipt of your form, the medical establishment will follow these steps:

Verify your photo
Affix a seal on the verified photo
Instruct you on the process of medical check-up
Facilitate the process step-by-step
The health check process will contain a basic physical examination, blood and urine tests, a measure of your BMI, test for vital signs, a stool sample, an ECG and some other tests as required. It will be quite complicated if you don't speak the language and don't get clear instructions from the medical staff.
7. Ultimate Tips to Get a Health Certificate
Simple as the dossier might seem, there are quite a few things you should bear in mind before going for a medical check-up:
Do not eat or drink anything except plain water for at least 12 hours prior to check up. You will not be allowed to take the blood test when you're full.
Do not drink alcohol for at least 24 hours before beginning your program.
Wear loose clothing.
If you have a pre-existing medical condition, bring along any test results or reports you have for the doctor to review.
8. Health certificate service
It is not an easy process if you're new to the country and don't speak much Vietnamese. Not all of the licensed hospitals are equipped with English-speaking staff, let alone the complicated procedures to obtain the final document. Understanding that, Vietnam-visa offers you a service package to assist you throughout the process of health certificate acquisition. You will only need to submit a soft copy of your photo (size 4 cm x 6 cm), your passport page, and we will take care of the rest.
For free support, please contact our hotline +84.946.583.583 or email us at [email protected].