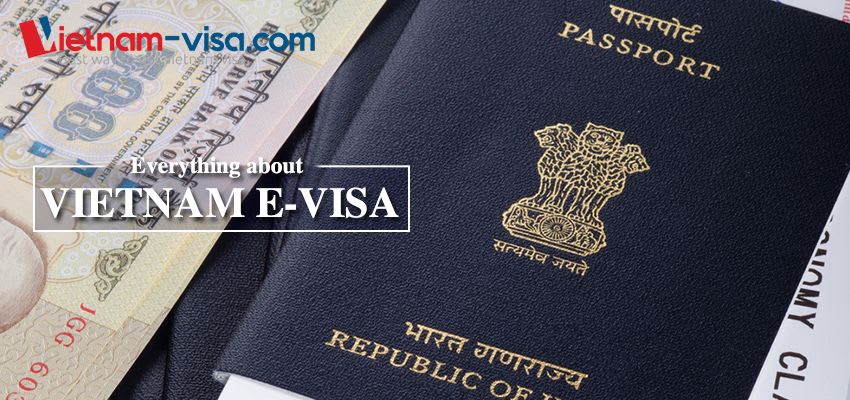 Phuong Nguyen

January 7, 2019
E-visa for Vietnam is the updated convenient way to get Vietnam visa compared to traditional method as going to Vietnam Embassy/ Vietnam Consulates. But not all international visitors to Vietnam have the right definition about the term "Vietnam e-visa". This specific blog post will provide you the precise & detailed information about 2 kinds of "Vietnam e visa" – which are often mistaken: Vietnam Visa on Arrival & Vietnam Electronic Visa.
Vietnam E Visa – Known as "Vietnam Visa on Arrival"
Before the launch of Vietnam Electronic Visa (which will be clarified in the following sector), travelers often refer "Vietnam E Visa" as applying for Vietnam Visa through the Internet. At previous time, Vietnam Visa on Arrival is the only convenient method utilizing online application procedures with some superior advantages over Embassy Visa such as: cutting down the processing time into 2 working days – 2 working hours (for super urgent services), minimizing the required documents & require no original passport-away.
Learn more about Vietnam Visa on Arrival via https://www.vietnam-visa.com/how-vietnam-visa-on-arrival-works/
Vietnam Visa on Arrival is also 100% legitimate, you can read more at: https://www.vietnam-visa.com/legal-basis-for-vietnam-visa-on-arrival/. Moreover, the Vietnam Visa on arrival service providers such as Vietnam-visa.com are also reliable with 10+ year industry experiences and trusted by more than 200.000 groups of travelers all around the world. Application steps are also simplified with high confidentiality assurance, Vietnam Visa Cost is transparent and customized based on your nationality.
After you complete the simple Vietnam Visa Application Form & finish the visa payment, Vietnam-visa.com will send you Approval Letter via Email (Attached with Vietnamese Visa Application Form). After that, you just need to print out that letter & form; filling out the form; prepare cash, 2 passport-sized photos along with passport then show them to Immigration Officer at Vietnam Arrival Airports. 
For further guide at Vietnam Airports, you can read more at "Detailed guide to pick up Visa On Arrival at Vietnam Airport" or quickly check through the image below: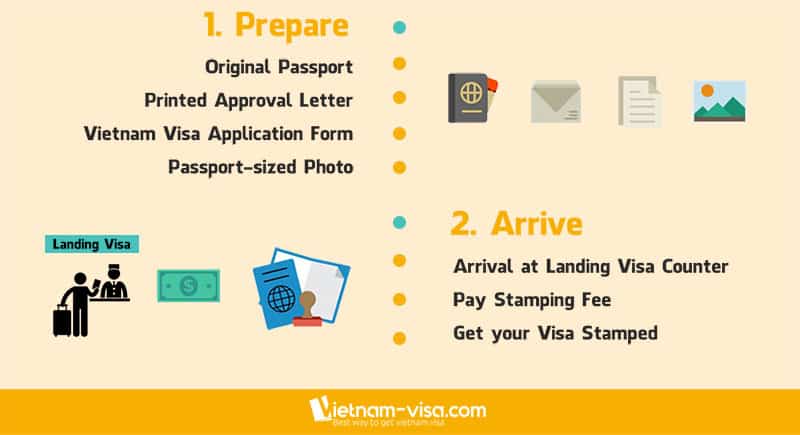 Vietnam E Visa – Known as "Vietnam Electronic Visa"
Currently, "Vietnam E-visa" should be referred to "Vietnam Electronic Visa" – visa types issued to foreigners by Vietnamese Immigration Department via the electronic system. This visa type has been officially launched since February 1, 2017, and applicable for:
Outside Vietnam foreigners who wish to stay in Vietnam for maximum of 30 days, as single entry visa.
Holding valid passport
Not falling into the cases of suspension from entry prescribed in Article 21 of Law on foreigners' entry into, exit from, transit through, residence in Vietnam.
Citizens of 40 countries in the list: Argentina, Armenia, Azerbaijan, Bulgaria, Belarus, Brunei, Chile, China (Not for Chinese e-passport holders), Colombia, Cuba, Czech Republic, Germany, Denmark, Spain, Finland, France, United Kingdom, Greece, Hungary, Ireland, Italy, Japan, Kazakhstan, Korea (South), Luxembourg, Myanmar, Mongolia, Norway, Panama, Peru, Philippines, Poland, Romania, Russia, Slovakia, Sweden, East Timor, Uruguay, United States of America, Venezuela.
To apply for Vietnam E Visa – Vietnam Electronic Visa, you can visit HERE.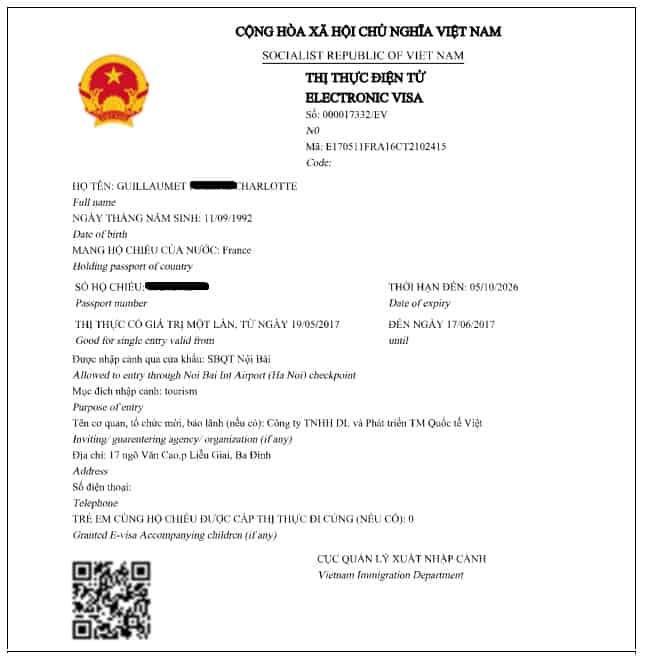 There is some important information that you should notice of this type of Vietnam E-visa:
Vietnam e-visa is valid for 30 days with one single entry. If you need to enter Vietnam multiple times and longer than this granted duration, you should consider using Vietnam Visa On Arrival.
To Vietnam e-visa, the purpose of visit is only for vacation.
Vietnam E-visa as Vietnam Electronic Visa allows visitors to enter at any of Vietnam's 8 international airports, 13 international border gates and via sea at 7 seaports across the country.
This kind of visa is very new, that's why some certain airlines or even immigration staff at the airports may not have been aware and therefore may refuse it, you should check with your airlines in advance to avoid this case. Check out the granted list of ports HERE.
For detailed comparison between these 2 Vietnam e visa, kindly click on: https://www.vietnam-visa.com/compare-vietnam-visa-on-arrival-and-vietnam-e-visa/
Hopefully, this post can help you unveil the confusing term "Vietnam E Visa". Should you need any further information about Vietnam visa, feel free to contact us at +84.946.583.583 or Sales@Vietnam-visa.com.