Today, Phu Quoc is a booming tourist island with resorts and bars, but for good reason. Nestled on the underbelly of Cambodia and only 61km from the closest shoreline of Vietnam, it is truly an ideal getaway for travelers worldwide. Wondering what charms making the island a true south-east Asia paradise are? Read on this list of 9 reasons to visit Phu Quoc Island, Vietnam and you will know why Phu Quoc is considered an idyllic island paradise!
9 Reasons To Visit Phu Quoc Island in Vietnam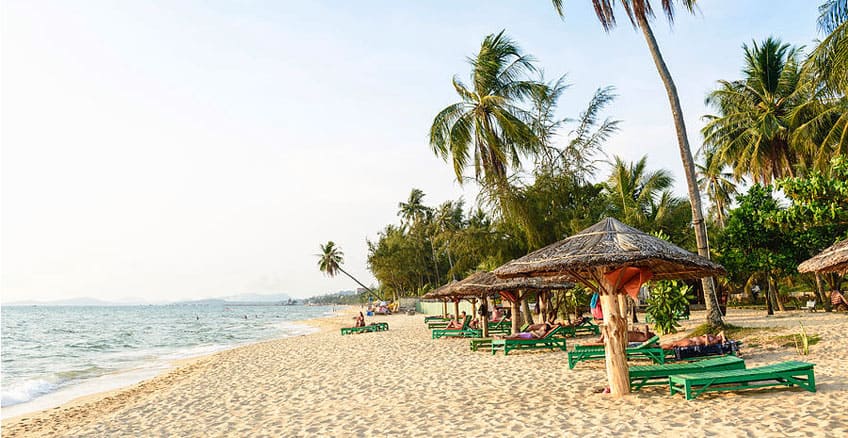 1. Mesmerizing Wild White-Sand Beaches
The island is suitable for an escape from the bustling atmosphere of Vietnam's urban cities. Phu Quoc has 28 small islets and islands and more than 10 beaches of which Long beach (Bai Dai) and Star beach (Bai Sao) are the most charming that attract a large volume of tourists annually. If you want to visit beaches with fewer travelers, consider Mui Ong Doi beach, May Rut Islet and Ganh Dau beach.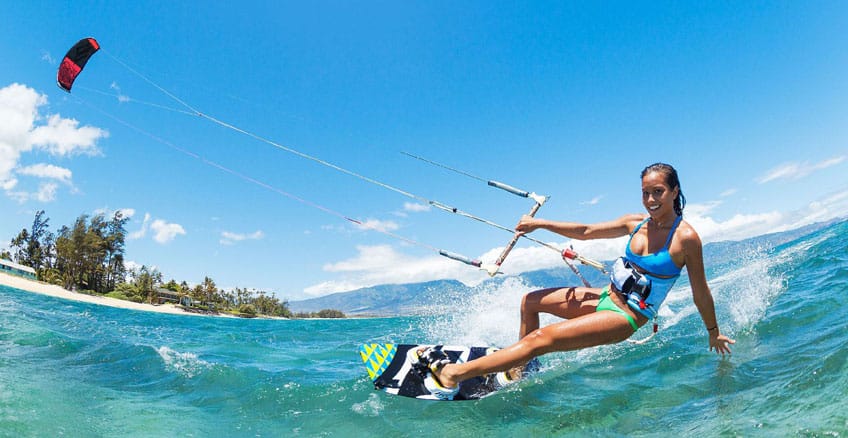 2. Heaven For Water-Sport Lovers
When it comes to a beach vacation, we cannot skip talking about water sports. In addition to swimming, one of great reasons to visit Phu Quoc is taking part in exhilarating and fun activities like kitesurfing, kayaking, jet skiing at Bai Dai and Bai Sao.
3. Swim Serene Waterfalls
Phu Quoc has not only beaches, but natural landscapes for tourists to dive into, namely mountains, forests, streams, lakes and waterfalls. You can contemplate or swim in waterfalls like the 4-metre Suoi Tranh waterfall surrounded by numerous walking paths, rock pools, and natural caves without being bothered by anyone. There are just you and the sound of birds singing, running water and leaves rustling in the wind.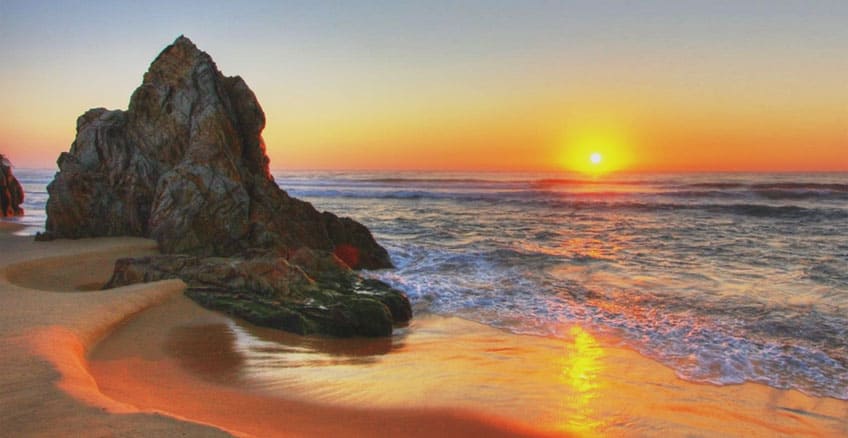 4. Watch Sunsets Galore at Long Beach
Long beach is a place where you can catch the most amazing sunset on Phu Quoc Island. Indeed, Phu Quoc is home to some picturesque sunset scenes and every day in the island ends with slowly, colorful unfolding sunset. The light is amazing long even after the sun dips behind the horizon.
5. Visit Mysterious National Park
Half of the island is greens of Phu Quoc National Park. This park is also called the lung of Mekong Delta and isolated from the busy life of Duong Dong tourist town, allowing tourists to free their mind and breathe fresh air. Declared a UNESCO Biosphere Reserve in 2010, the park is open to some interesting activities camping, bird-watching, hiking, and taking photos.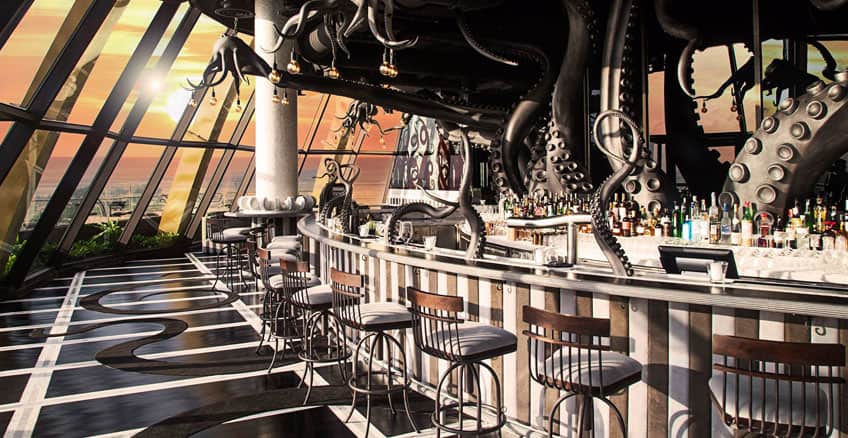 6. Wind Down At The Highest Skybar On The Island
It is considered the ultimate transition between secluded island and a well-developed holiday destination. The intercontinental Phu Quoc is home to the highest sky bar INK360 which is worth visiting. Its bar combines fantastic drinks and serene sunset views, and offers fresh seafood that allows tourists to indulge themselves in fresh seafood.
7. Visit Phu Quoc Prison
Not far from Star Beach located in Phu Quoc's southern area, there is a bleak reminder of Vietnam's turbulent history – Phu Quoc prison. It is established by French colonists in 1949 and has a small museum narrating the jail's gruesome history.
Much of this site displays mannequins of Vietnamese soldiers in chilling reenactments like being starve or forced to stand in outdoor, exposed tiger cages. Prisoners were kept in darkness and subjected to extreme heat and cold for a prolonged time.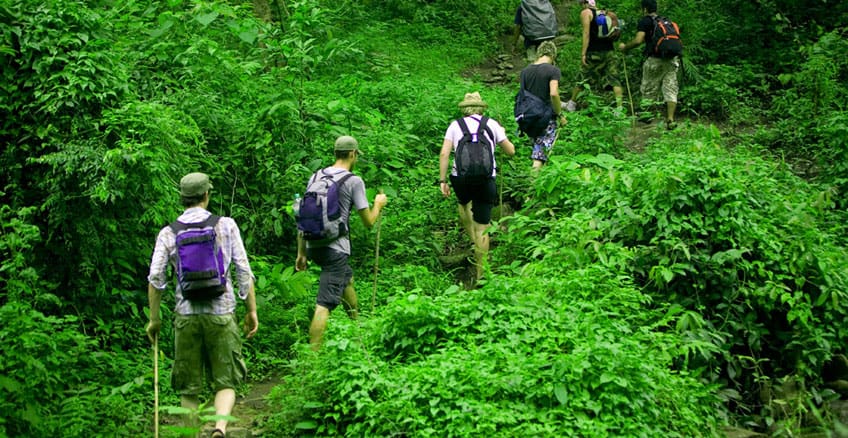 8. Sandy Trail Through The Forest
Fans of wild experiences can go for a sandy trail through the forest in Phu Quoc National Park. There are a few walking trails in the south of Bai Thom that allow you to discover the wildness of Phu Quoc.
9. Go To Ham Ninh Fishing Village
Ham Ninh fishing village is an attractive place in the eyes of foreign travelers, who want to experience local fishermen's daily life and taste fresh seafood as well as authentic local specialties.
It just takes about 20 minutes to drive from Phu Quoc International Airport to this fishing village. Also, it is not far from a pier, on which you can enjoy view of colorful fishing boats, Ham Ninh Mountain range, coastline and Hai Tac archipelago.
The above are our reasons to visit Phu Quoc island Vietnam. What do you think? Anything to add? Would you give Phu Quoc Island a chance? If yes, pack your luggage to head to this beautiful island as fast as possible. Good news is that foreign travelers visiting Phu Quoc within up to 30 days do not need a Vietnam visa to enter the island thanks to Phu Quoc visa exemption. So don't hesitate to start your journey now!