Just one-hour flight from Ho Chi Minh City to the southwest will land you in one of the most wonderful islands Vietnam has to offer – Phu Quoc. Up to now, Phu Quoc, Vietnam, also known as Pearl Island, is the only destination in Vietnam applying a visa exemption for citizens from all countries. This makes it more convenient for travelers to visit Phu Quoc these days. The challenge for you is choosing the best things to do at Phu Quoc, Vietnam. It is the reason why we create this survival island guide for first time travelers in Phu Quoc.
Considered the largest and most unspoiled island of Vietnam, Phu Quoc has idyllic white sandy beaches, loads of impressive attractions, a serene atmosphere, and exciting activities, making it a perfect holiday destination looking to escape the busy city life. Here's our survival island guide on visa for Phu Quoc, best time to visit, Phu Quoc best beach, and what to do that you can put into your pocket before heading to this paradise in Vietnam:
General Info about Phu Quoc Island
Phu Quoc Island is located in the far south of Vietnam and just off the coast of Cambodia. It is one of the best-kept secrets of south-east Asia. The northern part of this archipelago is rather untouched because of its status as a UNESCO-listed national park; however, there are still a wide range of luxurious resorts, quaint café shops and funky bars nestled along the southern coastline.
Visa for Phu Quoc Island
Phu Quoc Island makes it easy for first time travelers. According to visa exemption regulation of Vietnam published in 2005, this island is classified as a Special Economic Zone. International travelers, including foreigners and Vietnamese holding foreign passports, visiting the archipelago of 28 small islets and islands are eligible for a 30-day visa exemption if they just visit Phu Quoc without going to other destinations in Vietnam. This Phu Quoc visa exemption and requirements applies for both air and cruise travelers.
In case travelers want to go to other destinations in Vietnam after landing at Phu Quoc, local authorities will consider providing Vietnam visa right at the Island.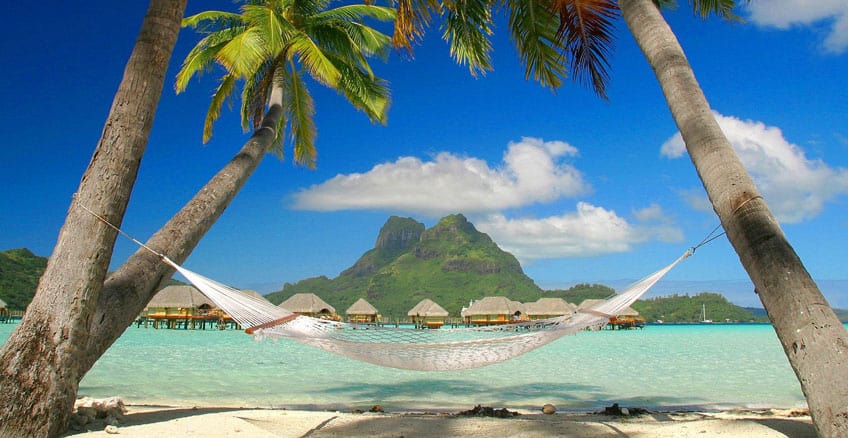 What Is The Best Time To Visit Phu Quoc?
The weather in Phu Quoc Island changes throughout the year, so do a research prior to booking your ticket. Rainfall happens mostly from July to September while sunny days are common from November to March.
First time travelers to Phu Quoc are advised to visit the island during dry season from November to March to get the most out of its majestic tropical coastal beauty. The average temperature is from 25°C to 28°C. Its tropical monsoon climate with low humidity level and average temperature makes Phu Quoc an ideal destination for various outdoor activities such as snorkeling, sunbathing, and swimming.
Where to Stay In Phu Quoc Vietnam?
No matter you are a backpacker traveling on a budget and looking for cheap hostel or want to treat yourself a luxurious getaway, Phu Quoc can accommodate either demand.
When it comes to best place to stay in Phu Quoc, tourists can refer to some luxury resorts like JW Marriot Phu Quoc Emerald Bay Resort and Spa, Salinda Resort Phu Quoc Island, and La Veranda Resort Phu Quoc – MGallery by Sofitel with the price ranging from 220 to 700 USD/night. Mid-range hotels are Cassia Cottage, Daisy Resort, Horizons Phu Quoc, Mango Beach, and Rocks Beach Boutique Bungalow with the price range of 70-150 USD/night.
About budget accommodation, tourists need to go a bit away from the city center as well as beaches. But a plus is that bicycles and bikes are free to borrow and the hospitability is what makes this site. Several resorts and hotels in Phu Quoc Island Vietnam are Lien Tho Village Resort, Phu Nam House, and The Venue with price ranging from 10 to 20 USD/night.
Since Long Beach (Bai Dai) is one of Phu Quoc best beaches, travelers often look for where to stay in Long beach. Staying in Long beach is now easy since there are many hotels and resorts for accommodation, such as Hoa Binh Phu Quoc Hotel, Sasco Blue Lagoon resort, Thien Hai Son Resort, Boulevard hotel, Ngoc Chau hotel, Lahana Resort Phu Quoc, etc.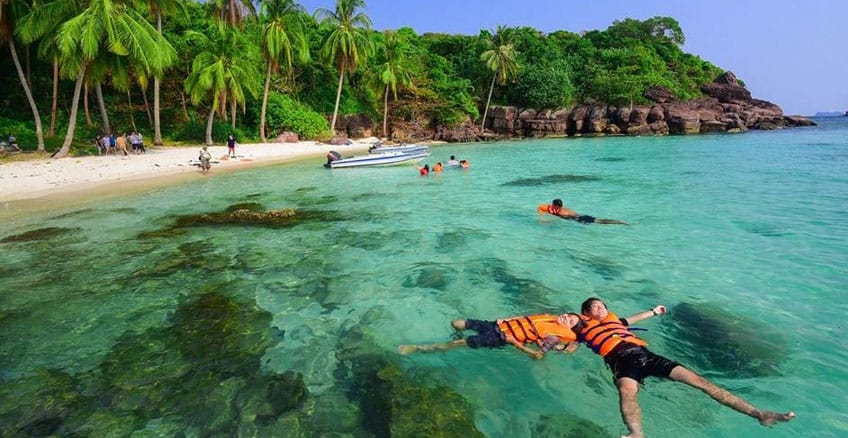 Phu Quoc Best Beach
Phu Quoc Island is much like a laid-back colonial place with glorious sandy beaches and thickly forested interior. With more than 150 km of coastline, there are dozens of excellent beaches for which tourists can discover.
Some suggestions of Phu Quoc best beaches are Long beach (Bai Dai) (central southwest), Star beach (bai Sao) (southeast), Thom beach (northeast coast), Gam Ghi island beach, Ganh Dau beach (northwest), Vung Bau beach, Ong Lang beach (central northwest), Thom beach (northeast) and Cua Can Beach (northwest), etc.
Here are some details about Phu Quoc best beach:
1. Ganh Dau Beach
This gorgeous palm-fringed bay is located on the remote northwestern tip of Phu Quoc Vietnam. Ganh Dau beach is also a cape and fishing village, in which there is local life, fishing fleet and food. Owing to a lot of local character and color, durians are sold near the fishing harbor here.
2. Ong Lang Beach (bãi Ông Lang)
The beach is nestled on the central northwest coast of Phu Quoc and home to attractive series of interlinking sandy bays. Ong Lang is backed by trees, has volcanic rock scattering on sandy beaches, and houses lots of great resorts.
3. Rach Tram Beach (Bãi Rạch Tràm)
Rach Tram, on the north coast, is one of the most scenically located, serene, and untouched beaches on Phu Quoc Island. This remote and tranquil beach is calm and beautiful, with densely forested hills.
4. Vung Bau Beach (Bãi Vũng Bàu)
One of the most attractive Phu Quoc beaches, Vung Bau is gorgeous with calm, blue water and soft sand. There are some mid-range resorts with ideal beach access at the northend of Vung Bau.
5. Cua Can Beach (Bải Cửa Cạn)
It is a slow-paced, pretty, mellow part of the island in which tourist development is mercifully light.
6. Long Beach (Bãi Dài)
Stretching for 20km along Phu Quoc southwestern coast, Long Beach with yellow sand is backed by coconut palms along its length. Divided into three sections, it has the most intense and large-scaled development on the island, especially its southern and central sections. Coming to the beach, you definitely enjoy the fresh and cool air and beautiful beach. Besides, you will stroll alongside the beach shore to contemplate sunrise or sunset.
7. Thom Beach (Bãi Thơm)
With stark beauty, Thom beach is silent, sparsely populated and filled with cashew fruit's scent and midday cicadas' sound. This sleepy, tranquil beach is charming and characterful with shallow waters, wonderful views over Cambodian coast, lush tropical foliage, and friendly locals.
8. Star Beach (Bãi Sao)
Owing to white sand, arcing palm trees, turquoise clear water, and jungle backdrop, Star beach is amongst the most popular beaches on Phu Quoc Island. This is really a postcard perfect beach that people are looking for.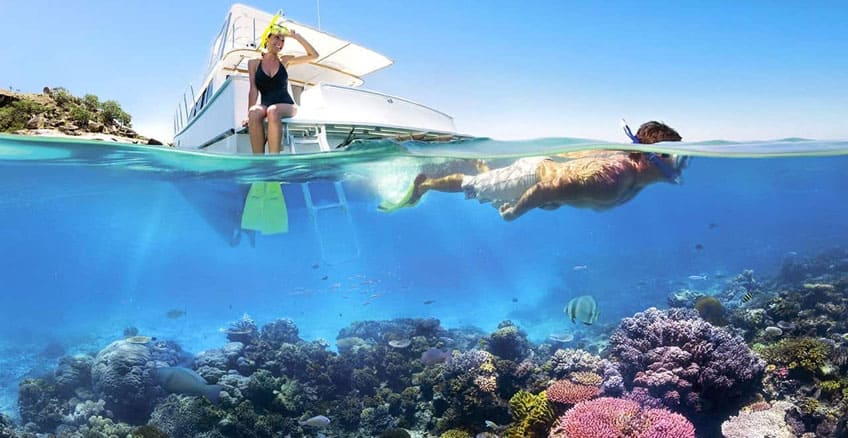 What to Do In Phu Quoc Island
Things to do in Phu Quoc are not just limited to swimming in its beautiful beaches, yet include visiting Buddhist shrines, historical sites, the national park and fishing villages. Regardless of the rise of modern facilities, high end resorts and hotels, and international dining venues, tourists can still indulge themselves in plenty of sightseeing chances during their trip.
Not to mention swimming in Phu Quoc best beach, here we have put some other suggestions about what to do in Phu Quoc:
1. Get Around Phu Quoc Island on a Motorbike
Getting around by motorbike is one of the most rewarding things to do in Phu Quoc. Hiring a motorbike and travelling around in Phu Quoc is an adventurous activity that allows you to experience the sun, wind and all local paths. With your bike, you could leisurely explore the island and discover hidden beaches. However, you should protect your head by wearing a helmet, obey all traffic laws and lights, signal while driving, drive defensively, and be aware of your surroundings to warrant for motorbike safety on the island. .
2. Hire a Boat to Go Fishing
Find yourself a local fisherman and hire him along with his boat for several hours to go fishing. Some places offering interesting experiences of going fishign are An Thoi town, Cua Can beach, Duong Dong River, and Vung Bau beach. Since the boats are available in different sizes, you can easily find the one that suits you.
3. Go Diving and Snorkeling
Owing to rich marine life, calm and clear water, Phu Quoc Island is ideal for exploring underwater. With plentiful chances of diving and snorkeling around the island, beginners can even get PADI certification here. Sites for travelers to get their feet wet are Long Beach, Sao beach, and Ganh Dau beach.
4. Hike Through Phu Quoc National Park
Fans of something mysterious and wild can pay a visit to the massive Phu Quoc National Park. Covering more than half of the island, this park is home to sorts of unique flora and fauna, dense mountain ranges and forest. Hence, it is perfect for some recreational activities like camping, hiking, taking photos and bird watching. More adventurous travelers can test their endurance by climbing the Mount Heaven.
5. Swim In Da Ban Spring
As a beautiful natural spot, Da Ban spring has poetic scene that reminds a watercolor painting of two gods playing chess on stone slabs.
If you are willing to prepare for something new, swimming in Da Ban Spring is really a worthwhile thing to do in Phu Quoc Island.
6. Taste Octopus, Crabs and Other Local Specialties
Someone said if you cannot see the ocean, don't eat the seafood. Fortunately, beach view shortage is not a problem on Phu Quoc and neither is acquiring great seafood. Phu Quoc is mecca for seafood lovers, so it is not surprising that you will be overwhelmed with the choice of shellfish and fresh fish with reasonable prices. Especially, Phu Quoc is renowned for its crabs and octopus. Many seafood restaurants scattered around the island where the seafood are delivered freshly from fishing boats right onto your places.
Tourists can also enjoy real "taste of Vietnam" with worn-down looking shacks and some plastic stools and tables in many restaurants scattered on the island.
Other dishes recommended to try in Phu Quoc is Raw Herring Salad (Gỏi cá Mai Phú Quốc), Fish and pork noodle soup (Bánh Canh), Shrimp noodle soup, Crab soup (Bun Rieu Cua), Broken rice dishes (Cơm Tấm), and Sizzling cake (Bánh Xèo).
If your trip is long enough, you can take part in some other fun activities like visiting a pepper farm, join a cooking class, visiting the prison, watching sunset at Long beach, etc.