Are you planning a trip to Thailand and looking for a convenient and hassle-free way to stay connected? Traveling to Thailand is an exciting adventure, and having a reliable eSIM is essential to stay connected throughout your journey.
Whether you're exploring bustling city streets or relaxing on picturesque beaches, a Thailand tourist eSIM allows you to access the internet, make calls, and stay in touch with your loved ones back home. In this article, we will explore the best eSIM options for travelers in Thailand, comparing providers, plans, and prices to help you make an informed decision.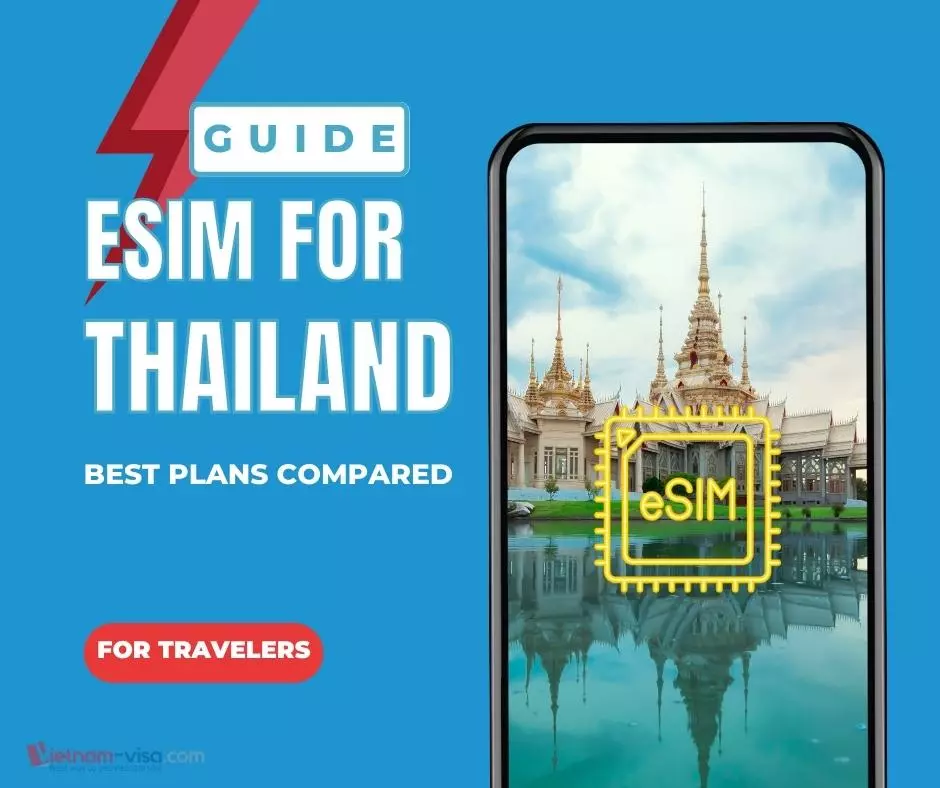 I. Why Choose an eSIM for Thailand?
Thai SIM cards have traditionally been the go-to option for travelers, but eSIM technology offers numerous advantages.
With an eSIM, you don't need to worry about physically inserting or swapping SIM cards, making it convenient and hassle-free.
Plus, you can easily switch between different eSIM profiles without the need for multiple physical SIM cards.
Furthermore, eSIMs provide excellent network coverage across Thailand, ensuring that you have a reliable connection in both urban and remote areas. This means you can navigate unfamiliar streets using online maps, stay updated with local information, and share your travel experiences in real-time on social media.
II. What is eSIM for Thailand travel?
In general, eSIM is a virtual/digital version of a physical SIM card, where "e" stands for "embedded" rather than "electronic".
There are 02 main types of prepaid eSIM available:
Data only eSIM: often does not come with a local phone number, not being able to make analog phone calls and SMS, suitable for those using mobile data only.
Data, voice and SMS: work like a traditional SIM card, come with a local phone number, can make phone calls + SMS + use mobile data.
Generally, and eSIM for Thailand travel, in particular, it is majorly about data-only eSIM. In fact, most eSIM providers supply travel eSIM plans in the form of data-only eSIM.
Tourists to Thailand can use this eSIM during their trip to navigate the map, contact their family and friends via apps like WhatsApp, Skype,… or surf the web, check emails, etc.
Do all smartphones have an eSIM?
eSIM technology is relatively new, so it is only available on newer generations of mobile phones.
At the moment only most recent smartphones and wearables have an eSIM. See a detailed list of eSIM-compatible devices here.
Do all networks support eSIM?
Currently, not all networks support eSIMs. However, over time, as this technology becomes standard, more networks will start supporting eSIMs.
II. Thailand eSIM Providers: Compare and Choose
When it comes to Thailand eSIM providers, there are 02 categories of providers: local mobile network operators and eSIM providers.
Local mobile network providers: in Thailand, there are 3 biggest cellular network providers, which offer eSIM services (for tourists): DTAC, AIS, and TrueMove H.
eSIM providers: They are providers of eSIM services for either Thailand only or many countries and regions all over the world, including Thailand. They can be Thailanesim.com, Airalo, Holafly, Nomad, etc.
Now, let's dive into the details of each category of Thailand eSIM providers and the plans they offer:
1. Local mobile network operators
Buying eSIM directly from mobile network operators seems to be the best option for tourists to Thailand. However, it does come with both pros and cons:
Pros:
You will be able to obtain the faster Internet connection because you are using the telecom infrastructure of the operator directly without having to roam through another party.
Cons:
Customers who buy eSIM from local mobile operators often have to go under a registration scheme according to Thai law. You have to register your personal information.
1.1 DTAC Thailand eSIM
As one of the leading mobile operators in Thailand, DTAC offers flexible plans customized specifically for tourists. With their eSIM, you can enjoy high-speed data, reliable coverage and affordable pricing.
Basically, DTAC has 02 plans for tourists to Thailand only, called Happy tourist:
Plan 1: 15GB, valid for 8 days
Plan 2: 30GB, valid for 15 days
Using this eSIM, you can connect to a 5G network as long as you are in the coverage area. However, as mentioned above, you have to register your personal data when buying DTAC eSIM directly.
Benefits of DTAC Thailand eSIM:
5G coverage Internet speed
Free calls to other DTAC numbers and messages with local rate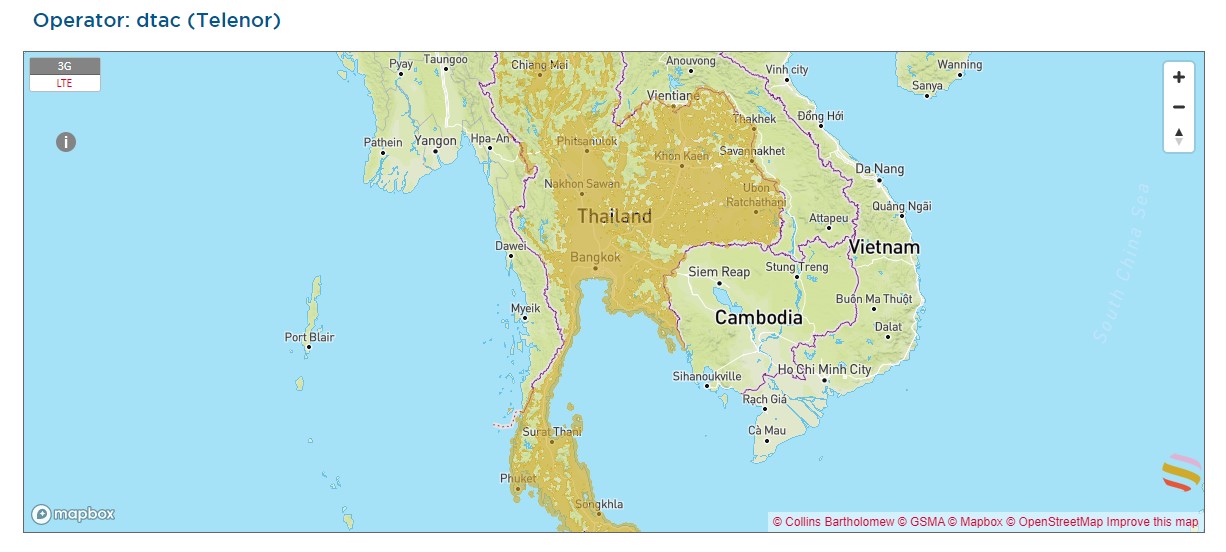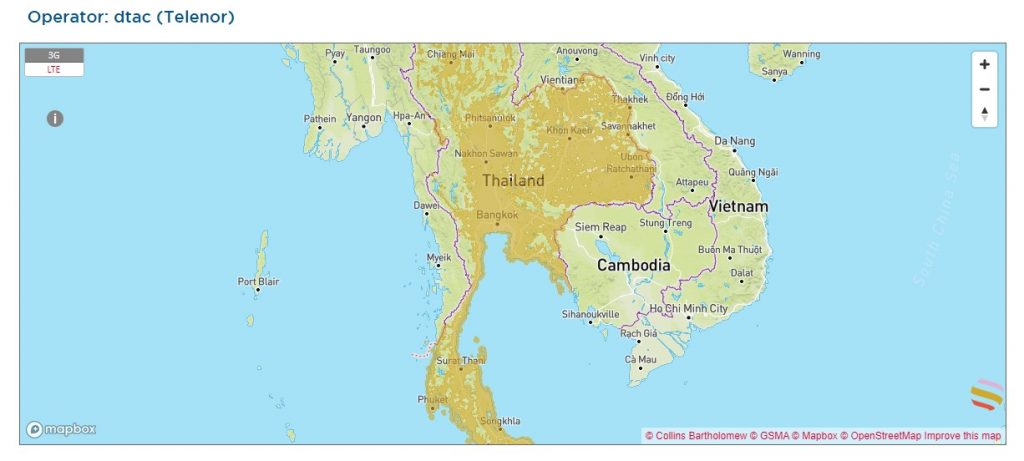 1.2 AIS Thailand eSIM
AIS is another reputable cellular network operator catering to both locals and travelers in Thailand. With their eSIM plans, you can get seamless connectivity and excellent network coverage.
To use Thailand AIS eSIM, you have to buy a prepaid SIM card with one of the available packages. Then, in the same store, you need to request to activate it as a virtual SIM in your device.
There will be no additional cost, but your device needs to be compatible with eSIM. Similar to with DTAC, you must also register your info during the purchase process.
Benefits of AIS Thailand eSIM:
Has a local phone number for customers to make phone calls (within Thailand) as with a physical SIM card.
Compatible with a typical SIM card that has a prepaid or postpaid service of any plan.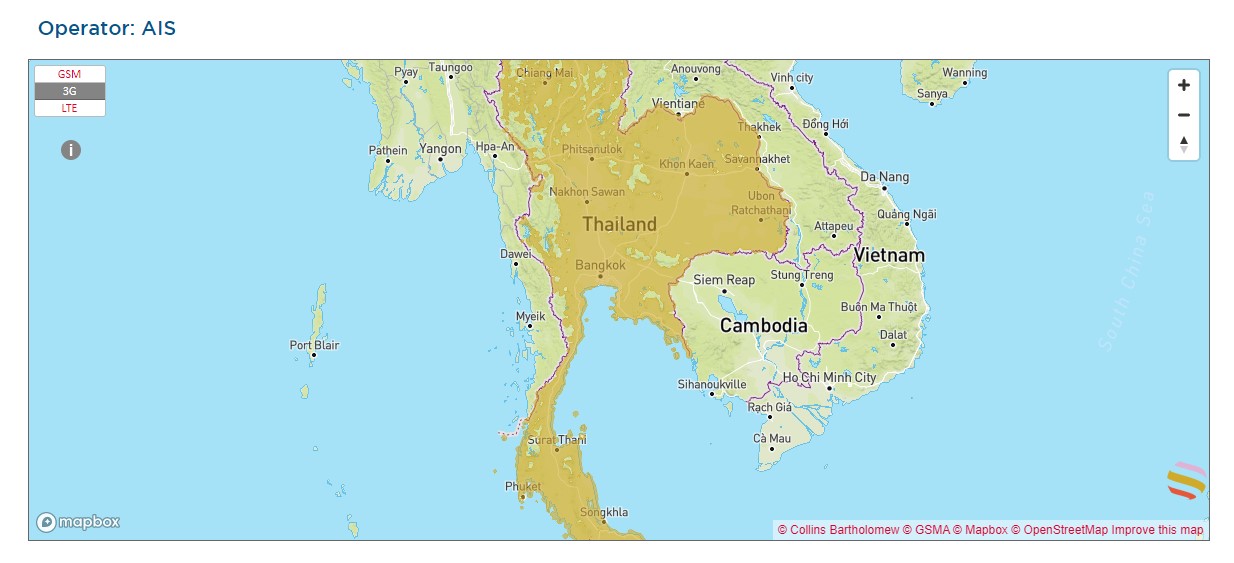 So, for travelers, choosing eSIM from Thai mobile operators is not as easy and convenient as it seems.
Let's move to the 2nd choice: buying eSIM from eSIM providers.
2. Buying Thailand eSIM from eSIM providers
There are many websites, online stores who offer eSIM services for travelers to Thailand.
Most of them provide data-only eSIM plans for customers.
Some pros and cons of this category eSIM providers are:
Pros:
Various options to choose from, from local plans (Thailand only) to regional plans.
Competitive prices
An eSIM provider often cooperates with one or more operators for their plans to make sure that their eSIM users will maintain stable connection almost everywhere in Thailand (either urban or rural or remote areas)
Quick and easy installation and activation process
Great customer services with 24/7 and multilingual support
Prepaid plans
Cons:
The speed somehow does not as fast as with a local mobile operator
► So which providers should you choose to buy eSIM for Thailand?
It is obvious that buying eSIM plans for Thailand from eSIM providers is more convenient than buying from local cellular providers.
Now, we will review the details of the best eSIM providers and the plans they offer.
III. Comparing Thailand eSIM Providers and Plans: Find Your Perfect Fit
If you have an eSIM-compatible phone, you can buy and activate a Thailand eSIM card easily. If you do not, it is widely available to buy a traditional SIM card. Anyway, as mentioned above, the digital SIM card has a lot of advantages, so it is better to choose eSIM as the first option when traveling to Thailand.
When choosing the best eSIM forThailand, consider some factors like data allowance, validity period, voice call rates (if any), and extra features offered by different providers.
To see in detail about these key factors that you should consider when choosing an eSIM plan for your Thai trip, visit our Review on top 5 Thailand eSIM providers for tourists.
In Thailand, you can easily buy eSIM from many providers. Three out of them are:
Airalo
Thailandesim.com
Holafly
Now we go to review these eSIM providers for Thailand travel.
1. Thailandesim.com eSIM for Thailand
Thailandesim.com is a provider of eSIM services specifically designed for tourists visiting Thailand. It operates as a subsidiary of GIGAGO, a Vietnam-based company. Despite being a newcomer in the market, Thailandesim.com offers notable advantages over its competitors due to its exclusive focus on the Thai market. This specialization allows them to provide diverse packages that cater to the varying needs and budgets of different customer segments.
At present, Thailandesim.com boasts the largest selection of eSIM packages available. They offer a choice of 13 different packages, tailored to suit the duration of your trip and your data usage requirements. These packages are exclusively available for use in Thailand and also cover regions within Thailand.
If you travel Thailand only, here are the best eSIM plans for Thailand to choose from:
THAI 15GB – 8D Ultd: Unlimited data (with 15GB high speed data), for $8.9 – allow top up + hotspot/tethering
THAI 30GB – 15D Ultd: Unlimited data (with 30GB high speed data), for $19.9 – allow top up + hotspot/tethering
THAI 3 days: 3GB – 50GB total, valid for 3 days, for $4.90 – $62.90 – no top up, allow hotspot/tethering
THAI 5 days: 3GB – 50GB total, valid for 5 days, for $5.00 – $67.50 – no top up, allow hotspot/tethering
THAI 7 days: 3GB – 50GB total, valid for 7 days, for $5.50 – $70.00 – no top up, allow hotspot/tethering
Pros:
Have the most plans for Thailand in compared to other providers
A wide range of data and validity available in each plan
Competitive rates
Use DTAC network – top 3 best network operators in Thai, with reasonable internet speed
Buying, installing and activating process is easy and quick
Allow to share data and top up
Have a local phone number
24/7 support in Vietnamese, English, Spain, Japanese, Chinese
Cons:
Relatively a new brand
Only packages for Thai and some Asian countries
2. Airalo eSIM for Thailand
Airalo is the leading eSIM provider in the world. They are strong in providing international eSIM. However, it does not mean that their local eSIM is not good.
For Thailand, Airalo offers 02 DTAC Happy Tourists eSIM packages:
Unlimited data, used in 8 days – $9.9
Unlimited data, used in 15 days – $19.95
These plans are claimed to be" unlimited" but in fact, after the specific amount of high speed data volume (the amount of high speed data varies by plan), the speed will be throttled to 384kbps.
Other plans are regional ones, named Asialink.
It will be great if you use these plans when crossing borders in Asia.
3. Holafly eSIM for Thailand
Holafly is a well-established eSIM provider that caters to tourists visiting Thailand. They have a strong global presence, serving customers in more than 190 countries and regions. In Thailand, they utilize the networks of 02, DTAC, and TrueMove H, ensuring internet access in various areas, including urban, rural, and remote locations.
One notable feature of Holafly is that they exclusively offer Unlimited packages, but there is still a limitation to the amount of max speed data available in each plan before the speed is throttled.
Holafly's Thailand eSIM does not have a Thai phone number and there is no support for sharing data.
If you travel only Thailand, choose from 8 eSIM plans below:
Unlimited data, valid for 5 days, $19.00
Unlimited data, valid for 7 days, $27.00
Unlimited data, valid for 10 days, $34.00
Unlimited data, valid for 15 days, $47.00
Unlimited data, valid for 20 days, $54.00
Unlimited data, valid for 30 days, $64.00
Unlimited data, valid for 60 days, $84.00
Unlimited data, valid for 90 days, $99.00
Apart from these local Thailand eSIM plans, these providers also offer regional eSIM plans that cover Thailand that you can refer to in our previous post.
Conclusion: What are the Best eSIMs for Thailand?
So, we have reviewed eSIM plans and providers that you can use for a Thai trip.
👉 Here, we will conclude about the notable features of each in case you need to make a quick decision on which provider and plan to choose when traveling to Thailand:
Airalo DTAC Happy Tourist SIM (5G NR access): fully equipped, from mobile data to calls and texts (but only with DTAC local phone numbers)
Thailandesim.com eSIM: most diversifying options, fully equipped (like Airalo), competitive rates and multi-language customer support.
Holafly Thailand eSIM: unlimited data-only plans
👉 During our review of eSIM plans and providers for your trip to Thailand, we found the following notable features for each option:
Airalo DTAC Happy Tourist SIM (5G NR access):

Fully equipped with mobile data, calls, and texts.
Limited to DTAC local phone numbers.

Thailandesim.com eSIM:

Offers a wide range of options.
Fully equipped like Airalo.
Competitive rates and multi-language customer support.

Holafly Thailand eSIM:

Provides unlimited data-only plans.
These are the key features of each provider and plan. Use this information to quickly decide which option suits your needs when traveling to Thailand.