Vietnam has been developing various plans to attract more and more tourists to Vietnam, and easier policy for Vietnam eVisa is one of them.
In April 2023, the Government of Vietnam officially submitted a report to the National Assembly proposing a number of new policies in the management of entry, exit and residence of foreigners in Vietnam, particularly extending the validity of evisa for Vietnam and expanding the Vietnam e-visa eligible country list.
And greatly, this proposal was approved by the National Assembly at its meeting on June 24, 2023.
And the following 2 things related to Vietnam e-visa will be effective from August 15, 2023.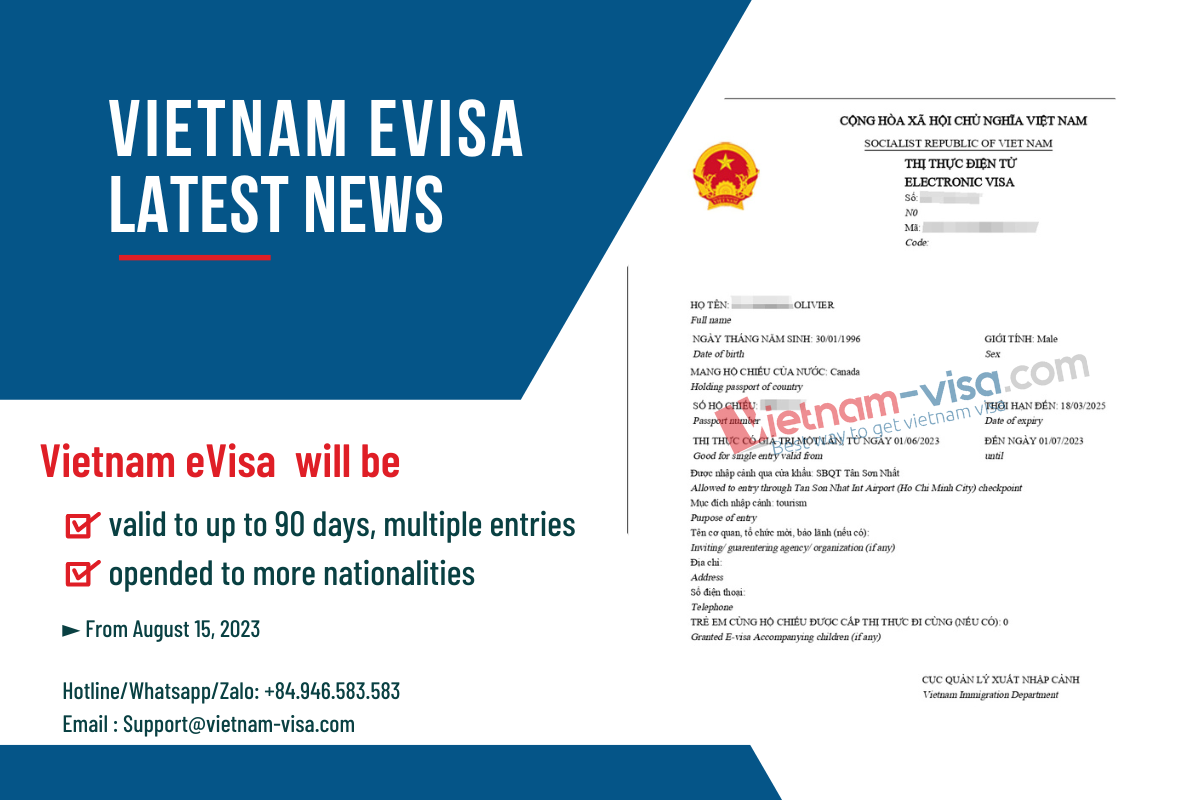 1. Vietnam eVisa will be available for more nationalities
Vietnam eVisa is currently granted to citizens of 80 countries, as follows:
Expansion of the Vietnam eVisa country list was approved. The Government is assigned to update this list, as well as list of Vietnam evisa entry ports.
We will keep you updated right after any news is released.
2. Vietnam eVisa will be valid for up to 90 days
As approved, Vietnam e-visa validity will be valid for up to 90 days, single entry or multiple entries, instead of the current 30 days, single entry only.
Within 90 days of evisa validity, the eVisa holders may enter and leave Vietnam as many times as they wish, without following any new evisa issuance procedure.
According to the National Assembly Standing Committee, this move is to meet the needs of international travelers, facilitate those who want to enter Vietnam to study, carry out market surveys, and seek and promote their investment, especially in cases where travelers need to visit various countries in Southeast Asia and return to Vietnam to evaluate and compare the potential ability to expand their investment and business in Vietnam.
This change will apply to those submitting their application for Vietnam eVisa on or after August 15, 2023. Those who have their eVisa for Vietnam issued or have their Vietnam evisa application submitted before August 15, 2023 will not be entitled to this change.
(Source: https://baochinhphu.vn/quoc-hoi-dong-y-nang-thoi-han-thi-thuc-dien-tu-e-visa-len-90-ngay-102230624103426652.htm)
Frequently Asked Questions
Yes, from August 15, 2023, this law will be effective, and the eVisa for Vietnam will be valid for up to 90 days, single or multiple entries.
At the moment, there is no guide in this regard. We will update you when we have information.