Updated: as from February 1, 2017, travelers to Vietnam has one additional option to get Vietnam visa, namely evisa (electronic visa).
So, at the moment, there are up to 3 ways to obtain a visa for Vietnam, consisting of:
Obtain the visa at Vietnam embassy/consulate;
Obtain the visa on arrival; or
Obtain an evisa
The first option is made offline at the embassy while the following two options are made online. In another post, we gave you a detailed comparison between Vietnam visa on arrival vs. embassy visa. And in this post, we will make a brief comparison between these two online options for Vietnam visa only, ie. visa on arrival vs. evisa.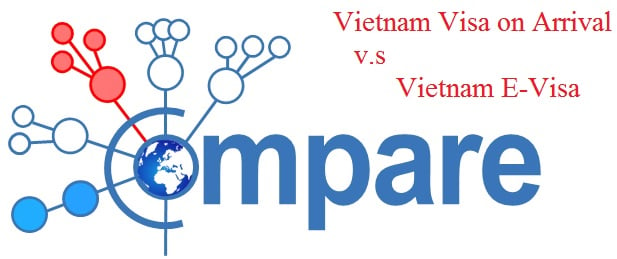 Item
Vietnam visa on arrival
Vietnam e-visa
Issuing authority
Vietnam Immigration Department
Vietnam Immigration Department
Eligible applicants
All those traveling to Vietnam by air
Citizens of 81 countries only. See the list here.
Visa validity

1 month single/multiple entry

3 months single/multiple entry

1 month single entry only
Visa fees

Depending on your visa type, refunded in case of refused visa application.

► You can see exactly how much you need to pay for your visa on arrival here.

US $25, non-refundable in case of refused visa applications
How to get

Submit online application form at https://booking.vietnam-visa.com/step1.html
Get visa approval letter via email
Get visa stamped at Vietnam airport

► See details about Steps for getting visa on arrival for Vietnam

Or

Access to https://evisa.xuatnhapcanh.gov.vn/ and select the right section for application
Follow the steps to upload your photos and complete the evisa application form
 Remember the code to check the visa status and download the evisa if issued

► See details at Vietnam e-visa application

Processing time
Normally 02 working days for tourist visa approval letter or even faster (2-4 worrking hours) upon request
Normally 03 working days to know whether the visa application is approved or not
Entry gates
8 international airports of Vietnam in Hanoi, Hai Phong, Da Nang, Khanh Hoa, Da Lat, HCMC, Can Tho, Phu Quoc
33 ports (air, land and sea)
Advantages

You can switch your arrival port among 8 airports above no matter which one is mentioned in your letter
One application can be made for multiple travelers

Have visa in passport before departure for Vietnam
Disadvantages
You may need to wait for up to 30 minutes or 1 hour at Vietnam airport for visa stamping. But this issue can be solved with our Fast-track service

You must enter and exit Vietnam in the ports mentioned in your evisa. In case you change them, you need to obtain a new one.
One application is for one person only
Above is a brief comparison between evisa and visa on arrival for Vietnam, helping you easily find the best way for you.
Should you need any further information about Vietnam visa, feel free to contact us at +84.946.583.583 or Sales@Vietnam-visa.com.