By applying for Vietnam visa online, you can promptly get visa to Sapa, Vietnam on Spring or Tet holidays. Surely, you will not only be excited when enjoying blooming peach trees and plum but also have a great chance to discover the mysteries in the Mong minority's custom and habits, of which most typically is Gau Tao festival. The festival has long been considered as one of the most important traditional events of the minority.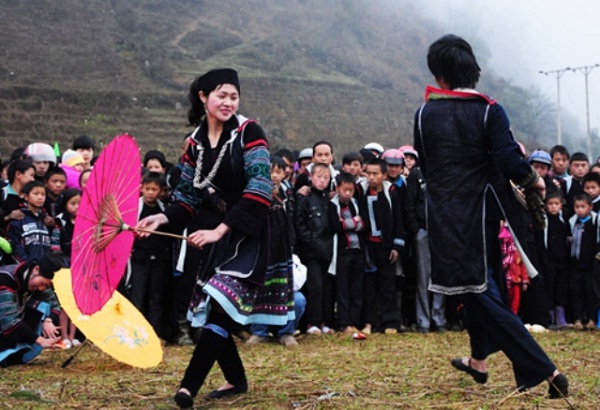 As such, in order to diversify tourism activities as well as to introduce unique cultural identities of Mong people in Lao Cai province to domestic and foreign tourists, from 28 February 2015 (the 10th day of the first lunar month), Lao Cai Department of Culture, Sports and Tourism will pilot Gau Tao Festival to serve tourists in Bac Ha District.
Participants in the festivals are not Mong people in Lao Cai but also Mong people in some provinces in the North-West such as Ha Giang, Yen Bai, Lai Chau. Coming to Lao cai during this vocation, tourists will have the opportunity to learn about specific traditional cultural characteristics of Mong ethnic people in the North-West during Tet holiday; and also participate in many attractive folk games usually held in Gau Tao Festival, including khen dancing, hoi singing, pillar climbing, top spinning, the pull of natural force, stick pushing…
In Mong ethnic language, Gau Tao means "the place to play". Gau Tao Festival is the traditional festival of Mong ethnic group in Lao Cai, associated with belief in prosperity and happiness. The festival is held according to household scale with the response of community. Normally, when a Mong family has no children, patient or unfavorable work…, they will pray Gods to give children, health and thriving. When their prayers become true, they will hold Gau Tao Festival to say thanks to the Gods. According to custom, the festival lasts for three days in the spring of three consecutive years and is usually organized by three families, which have consanguinity or connected by marriage and same situation. The organization place of Gau Tao Festival called Hau Tao (Festive Hill) is a low hill and surrounded by higher hills. In Mong people's conception, Gau Tao Hill symbolizes destiny of house owner; high hills behind symbolize development, more and more good fortune.
With its historical, cultural, scientific values as well as need of protecting and promoting values of this heritage form, in December 2012, Ministry of Culture, Sports and Tourism added Gau Tao Festival of Mong people in Lao Cai Province in the list of National Intangible Culture Heritage, type of traditional festival.
The successful pilot of Gau Tao Festival to serve tourists will create basis for Lao Cai to put the festival into regular tourism product, through that preserve traditional cultural values of Mong ethnic people and attract domestic and foreign tourists to Lao Cai.