On June 23, 2014, the UNESCO officially recognized Trang An Tourism Complex in Ninh Binh – a northern province of Vietnam as the World Heritage Site. The new was released by the Ministry of Culture, Sports and Tourism.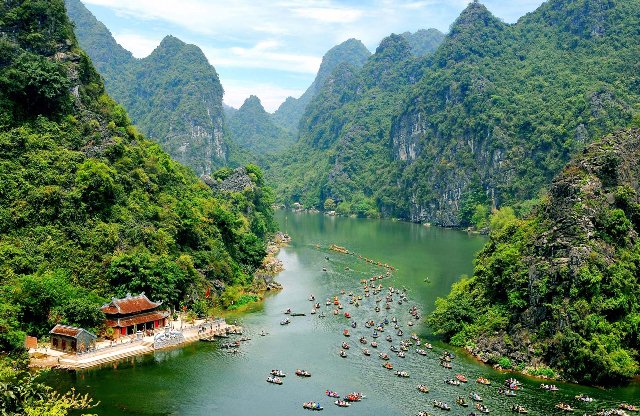 As such, Vietnam has had 8 cultural and natural heritage sites recognized by the UNESCO and the Trang An Complex is in the 8th place.
The recognition is granted based on the principles of the Convention on the Protection of World Culture and Natural Heritages including cultural, aesthetical, and geological-geomorphic values and the preservation of heritage.
The Trang An complex has long become a favorite destination for a short holiday from Hanoi. Covering an area of nearly 2,000 hectares, the complex consists of three conjunctional sites: the Hoa Lu ancient citadel, Trang An-Tam Coc-Bich Dong natural scenic site, and the Hoa Lu primeval forest. The complex is often called the Halong Bay on land of Vietnam.
The turbulent movement of earth crust of hundreds of million years ago has endowed Ninh Binh with a unique nature of labyrinth of cave, mountain, lake, and historical relics. It boasts 47 historical relics with numerous caves inside stuning limestone karst mountain ranges. The lyric and picturesque landscape of Trang An is a harmonic combination of mountain, valley, and system of lakes.
Trang An features various caves that have undergone impacts of time and weather, decorating with unique shape of stalactites and stalagmites. The system of interconnected cave comprises 30 valleys, each is a amazing picture of mountains, rivers and nature in general.
Not only serving as a cradle of civilization of ancient Vietnamese, Trang An also used to house the first capital of the Vietnamese feudal and independent state, Hoa Lu, more than 1,000 years ago. Its rugged landscape provided a favourable location for a secure and easily defended citadel.
Moreover, Trang An owns diverse ecological system. It is surrounded by primary forests with variety of floral and fauna systems including 310 types of tracheophyta, many kinds of fungi, moss and algae, some rare trees like Dalbergia tonkinensis, Chukrasia tabularis, Burretiodendron hsienmu, over 30 animals, 50 types of birds, reptiles, especially rare animals like Capricornis sumatraensis, Neofelis nebulosa, white chest gibbon, Buceros bicornis.
If you have chance to Vietnam, especially Northern Vietnam, remember to take a trip to Trang An complex to see its magnificence and attraction.