Hanoi – the capital of Vietnam – has long become a favorite destination among both domestic and international travelers. Hanoi's character is inseparable from its weather. But even in a sunny day or in a rainy day, Hanoi still beautiful in the eyes of travelers.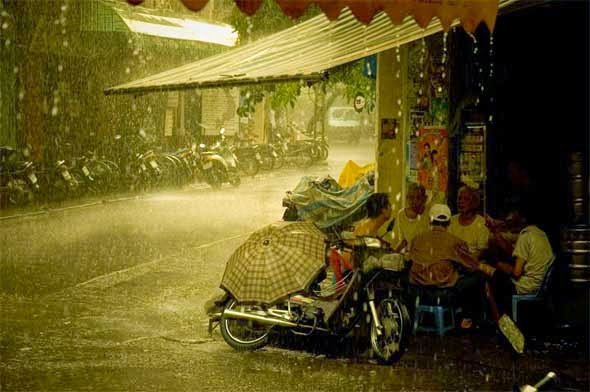 If the sunshine brightens the Hanoi, wakes up a bustling city, the downpour cleans the Hanoi, makes its roads and sidewalks empty half their contents, and its ancient walls and waterstains become saturated in color.
So, if you stay in Hanoi in rainy days and do not want to waste your time at the hotel, tide you over well until the sun comes out:
Make your way to a museum – most likely, you were planning to visit one of these anyway. An unexpected rain shower is an opportunity to learn more about the Vietnam's rich culture and history. For a few enlightening hours in door, we suggest the History Museum at No.1 Pham Ngu Lao Street, Hoan Kiem District, Hanoi and the Vietnam Museum of Ethnology on Nguyen Van Huyen street, Nghia Do, Cau Giay, Hanoi.
Check out the Art Scene – The art world has high hopes for contemporary Vietnamese art to appreciate over the next few years. Visitors can browse works by some of the country's best painters and up-an-coming artists in galleries on Hang Bong Street.
Gather round a Hot Pot – Vietnamese Lau, or hotpot, is a highly sociable way to enjoy a meal. Diners act as cooks, plunging fresh vegetables, meat, seafood and tofu in a pot of gently boiling broth set over an open flame in the middle of the table. The flavorful warm soup and leisurely preparation are even more enjoyable in rainy weather.
Take a umbrella or wear a raincoat and go around the Hanoi's old Quarter to see how different it is in a rainy day.
Aside from these suggestions, there are countless ways to pass the time pleasantly indoors in Hanoi. You can do to the clubs or cafe, enjoy a cup of coffee and contemplate the Hanoi under the rain drops.
Don't worry at all if your time in Hanoi is almost covered with rain.
Do you want to see our Hanoi, apply for Vietnam visa and take your luggage and go!